Hear from Cybersecurity Industry Leaders Next Week at Forcepoint Exchange Strategy Summit
Next week, join us as our colleagues in EMEA kick off the first Forcepoint Exchange Strategy Summit—a virtual event happening between April 28 – May 7th. Whether you're a C-suite business leader, a security executive, team lead or practitioner, this event will give you actionable insights for addressing today's dynamic cyber landscape.
During the 26 online sessions including live panels, Forcepoint senior leaders like Chief Product Officer Nico Popp and Global CTO Nico Fischbach will share their visions about the future of cybersecurity . Beyond that, you'll also hear insights from CISOs, analysts, technology partners and industry thought leaders. This is your chance to exchange with the best minds from The Office for National Statistics, Forrester, Microsoft and more—all in one place.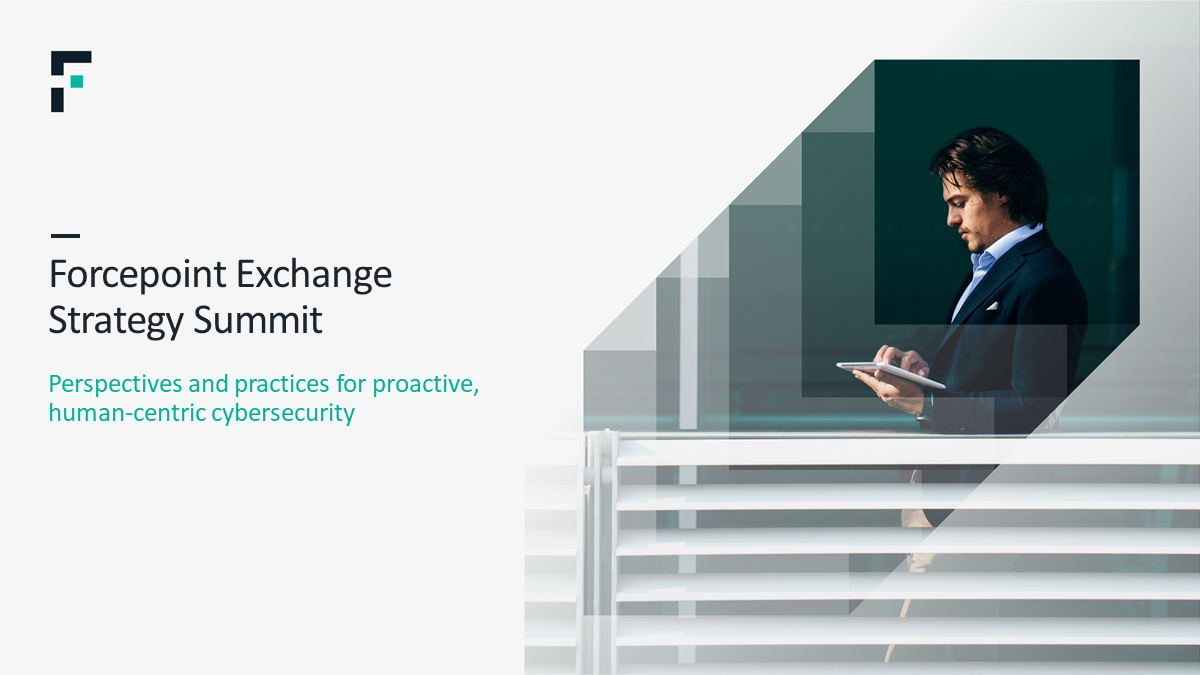 Here's what you can expect over the first two days:
DAY 1 SESSIONS—Tuesday, April 28
HB Advisory Managing Partner William Beer joins Forcepoint's User Protection Strategist James Wilde to discuss the intense scrutiny that financial institutions face from customers, regulators and shareholders. Listen to this session to get glimpse into what the future of cybersecurity looks like for the financial sector
CEO of Cygenta and ClubCISO Chair Dr. Jessica Barker will join HB Advisory Managing Partner William Beer to share insights into the way people behave in this hyper-connected environment. This session will discuss the concept of human bias as it relates to cybersecurity and explore why the human element should be an integral part of any multi-layered defense strategy.
Office for National Statistics CISO Andy Wall is someone who knows what it takes to protect petabytes of data. In this session, he'll share his approach to establishing a security program and adapted policies, overcoming inertia and driving ownership of specific datasets.
HB Advisory's William Beer will moderate this live panel discussion with Forcepoint's James Wilde, Cygenta's Dr. Jessica Barker and Office for National Statistics' Andy Wall as they answer questions received during the course of the virtual summit.
Modern cybersecurity requires a mindset change. Since attackers are compromising user access on a massive scale, it's important to understand the behavior of users interacting with data. Forcepoint's Sr. Director of Security Strategy Homayun Yaqub and Principal Security Strategist Robert Mechler will cover six strategies that security professionals can implement today.  
DAY 2 SESSIONS—Tuesday, April 29
Hear from Microsoft's Director of Cloud Security Engineering Customer Experience, Mekonnen Kassa how the company is transforming the customer experience. In this session, Mekonnen will discuss facilitating the move from on-premise to cloud-first and enabling the customer to leverage and optimize technology investments, all while protecting core business priorities and assets.
Forcepoint Global CTO Nico Fischbach will break down Forcepoint's approach by discussing three areas:
SASE (Secure Access Service Edge) is a way to re-architect secure cloud and network security. Forcepoint experts Dave Barnett and Mike Smart will discuss shifting infrastructures and the benefits of a single cloud-first platform, and they'll discuss key use cases for SASE.
A trillion dollars spent on perimeter protection is clearly not effective in securing organizations against breaches. Forcepoint's Chief Product Officer Nico Popp will break out the whiteboard to map out the need to move from an outside-in to an inside-out approach to security.
HB Advisory's William Beer will moderate a second live panel discussion that will look at how partnering can solve evolving security challenges. Panelists include Mekonnen Kassa, Microsoft, Nico Popp, Forcepoint and Paul Garvey, Forcepoint's EMEA VP, Sales.
The disconnect between security, operations and business is now a 30-year old story that is on the verge of being rewritten. Our presenters, Forrester Principal Analyst Dr. Chase Cunningham and Forcepoint's Chief Product Officer will exchange their views and strategies.
 
And it doesn't stop there. From May 5th you can also join similar sessions in French, German and Italian.
We look forward to seeing you next week!
About Forcepoint
Forcepoint is the leading user and data protection cybersecurity company, entrusted to safeguard organizations while driving digital transformation and growth. Our solutions adapt in real-time to how people interact with data, providing secure access while enabling employees to create value.