Booth, Presentations, Recruiting and More: Here's what Forcepoint is up to at Black Hat USA 2017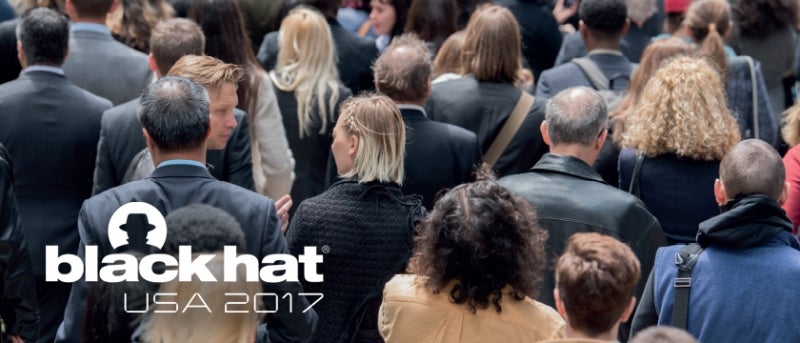 20 years at Black Hat!
It's amazing to think that Black Hat has been going strong for 20 years. At Forcepoint, we're excited once again to descend on Las Vegas next week, together with thousands of cyber security professionals from all over the country and across the globe.
What's going on in Booth #499?
Recently, we unveiled our new brand campaign which is centered on protecting the human point. Come see the human point brought to life when you stop by the Forcepoint booth #499 during the show. Presentations will be running every 15 minutes. All attendees who watch a presentation will be given a raffle ticket for a Robosapien robot giveaway. And everyone, winner or not, will be given a t-shirt following the presentation. We'll give you a chance to think about what kind of "insider" you are – accidental, compromised, or malicious -- and then choose the appropriate shirt to reflect your personality (or maybe just your alter ego).
Looking at Precrime through a Human Lens
We hope you'll stop by the Business Hall on Wednesday for a fascinating sponsored session. Chief scientist Dr. Richard Ford will be presenting on Wednesday July 26th at 10:20 AM in Theatre A. Details are as follows:
Minority Report: A Predictive "Precrime" Approach Requires a Human Focus
In Philip K. Dick's 1956 novel "The Minority Report," murder ceased to occur due to the work of the "Precrime Division," that anticipated and prevented killings before they happened. Today, we are only beginning to see the impact of predictive analytics upon cybersecurity – especially for insider threat detection and prevention. Based on user interaction with data, CISOs and their teams emerge as the IT equivalent of a Precrime Division, empowered to intervene before a violation is ever committed. We will examine the technologies which make predictive analytics valuable, along with ethically minded guidance to strike the balance between vigilance and privacy.
Don't Miss these in-booth Presentations
No matter what topic interests you, Forcepoint has you covered this year with presentations that range from firewalls to data protection to cloud security to cross domain. Check out the details on our in-booth presentations below:
The Networking Industry's Dirty Secret: Why Are Evasions Still a Thing?
Firewalls exist to keep attackers and malware out. But for years, hackers have been bypassing even the latest NGFWs and IPSs using Advanced Evasion Techniques (AETs for short).  We released Evader, an evasion test lab, years ago to help the industry fix the problem. But have they? Evader's back so that you can test for yourself and see how even the biggest names in network security STILL leave you exposed.
Top 3 Myths About Modern Firewalls -- Debunked
People are spreading out, working in branches and remote locations, using apps from far-flung data centers, the cloud and everywhere in between. Conventional wisdom says that connecting and protecting people in such environments is hard and scary. But, taking a new, human-centric approach to network security can dispel these myths.
User-Focused Data Protection
Today's approach to data security has failed. With a focus on detecting malware threats and meeting compliance demands, enterprises have done little to actually reduce the risk of data loss. They've overlooked the most obvious risk – their people who mostly want to get their job done but often inadvertently expose critical data. Forcepoint believes data protection starts and ends with your people. Guide users to make smart decisions with data. Understand how your people interact with your valuable data and analyze that behavior for risk. This user-focused data protection creates a partnership between the enterprise and its people to protect data – while accurately identifying the compromised users and malicious insiders as outliers.
Why UBA is essential for the Cloud
As Cloud adoption has transformed how and where employees work, the shift in how we access, and the device we use, have also evolved.  UBA is an essential tool to providing rapid analysis and response to ever growing risks.  Come and learn about Advanced UBA and how it is the principal defense if you have embraced the Cloud.
Enabling Cyber Warriors Securing Global Missions
This session will illustrate the concept of network separation (why this is a security best practice) and how using cross domain solutions (access and transfer) reduce the security burden on the user – allow them to work rapidly, efficiently and easily – and increase the security posture of the enterprise.
Highlighted will be how cross domain solutions enable the human point of real-world mission operations because users have access to the appropriate data where and when they need it most, eliminating information sharing boundaries between agencies and partner nations.
We're Growing and Hiring!
Forcepoint's Global Talent Acquisition team will be out in force at the conference with regular presentations in the booth as well as a presence in the Career Zone on the 2nd floor. Paul Maack, our Senior Director for Global Talent Acquisition, will be presenting the Forcepoint talent story, and members of his staff will be available to answer questions and take discussions deeper in 1:1 conversations. Please stop by to learn more about your opportunities to join Forcepoint as we reinvent the cybersecurity market! We're growing, and we'd love to meet you.
Forcepoint has 2,500+ employees worldwide with our headquarters based in Austin, Texas. Our cybersecurity solutions are proven at leading companies (both commercial and governments) spanning 155+ countries across the Americas, Europe, the Middle East, and Asia Pacific.  We have a strong global footprint – with over 50 offices in 43 countries.  We're a unique mix of developers, security labs techies, technical support, sales reps, marketing folks and channel partners making it happen 24/7, all over the world. Your opportunities to excel at Forcepoint?  Virtually unlimited.  We hope to talk to you soon.
Not at the show? No problem.
If you can't make it to Vegas, there's no reason to feel left out. Be sure to follow our Twitter and Instagram feeds for live coverage of the event and links to more blog posts. We'll look for you online!
About Forcepoint
Forcepoint is the leading user and data protection cybersecurity company, entrusted to safeguard organizations while driving digital transformation and growth. Our solutions adapt in real-time to how people interact with data, providing secure access while enabling employees to create value.