Bringing Human-Centric Cybersecurity to life at Gartner Security & Risk Management Summit 2018
We are delighted to be attending the Gartner Security & Risk Management Summit again next week in National Harbor, Maryland for a packed few days of booth demos, speaking sessions, networking, and more. Read on to learn more, and we hope to see you at #GartnerSEC!
#SnapsforServiceDogs
Exhibit Showcase | Monday, June 4
5:45 pm - 7:30 pm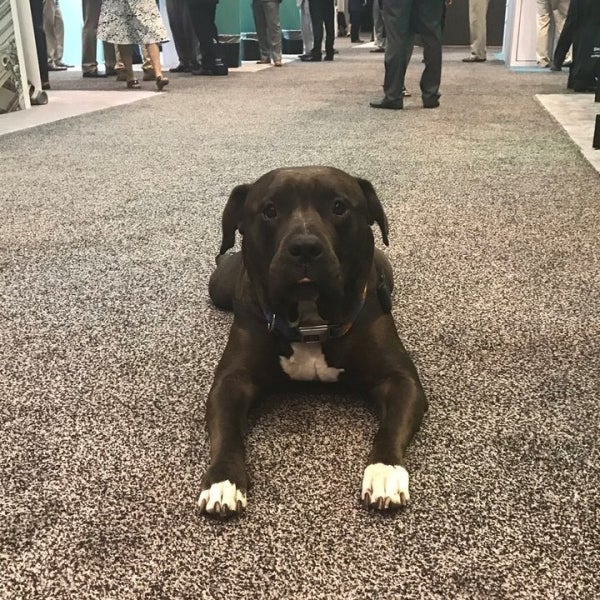 If you've been by a Forcepoint booth at a trade show in the last couple of years, there's a good chance that you've run into Jumanji the service dog, and his human partner Marcus. Marcus is a Senior Sales Engineer with Forcepoint and Jumanji is his constant companion. This year we're excited to be teaming up with Marcus, Jumanji, and Freedom Service Dogs of America at the show to help provide support for our four-legged friends, and the men and women who train them to be support animals for people with PTSD.
Stop by the networking reception on Monday evening from 5:45 - 7:30 and take a selfie with Jumanji. For each selfie featuring Jumanji posted to social media with the hashtag #SnapsforServiceDogs Forcepoint will donate $10 to Freedom Service Dogs of America. If you're not at the show but you're moved to contribute, we've set up a page to accept donations here. Thank you!
In the Booth
Booth #405 |June 4-7
Come chat with our subject matter experts in the booth and learn how Forcepoint provides the end-to-end, human-centric security architecture required for today's complex and fast-paced enterprise environments. 
Gartner event attendees can experience a hands-on demo of the industry's first Risk-Adaptive Protection solution, Forcepoint Dynamic Data Protection, at booth #405. With the industry's first automated enforcement capability that dynamically adapts, security analysts are now freed to focus on high value activities and eliminate the backlog of alerts from traditional security tools. Security professionals can also participate in technology demonstrations featuring Forcepoint's Web Security incorporating CASB capabilities, human-aware NGFW and cross domain solutions. Stop by the booth to speak with product experts and receive a special collector's edition t-shirt.
Speaking Session: Remove Business Friction with Risk-Adaptive Cybersecurity
Woodrow Wilson B | Monday June 4
11:45 - 12:30
CIO Meerah Rajavel will walk through the paradigm shift in thinking needed to evolve today's approach to solving security challenges. This is especially relevant as the static legacy approach to data protection continues to prove ineffective for today's sophisticated attacks. In presenting a strategic path forward, Rajavel will discuss how Risk-Adaptive Protection ensures trust between enterprises and its employees and addresses the mandate from boards of directors for stronger cyber efficacy.
Rajavel will also highlight the benefits of Risk-Adaptive Protection which focuses on how, when and why people interact with critical data, correlating behavior with the context of user activities to view risk holistically. And, instead of locking down productivity, Risk-Adaptive Protection gives users more freedom by enforcing policies that are unique to the user and proportionally applied only when needed.
Forcepoint Derby Hospitality Suite
National Harbor 6 | Tuesday, June 5
5:30 pm - 8:30 pm
Spend an exciting evening playing the ponies at the Forcepoint Derby! Our Clubhouse will feature food and beverages as you use the Derby Bucks we provide on your chosen horse among the horses running throughout the evening. All winning bets at our track will be entered to win some really cool prizes. The Forcepoint suite will feature food and beverages as participants place Forcepoint Derby Buck bets on virtual races throughout the evening. Winners have the chance to win Apple Home Pods, Bionic Birds and more. For more information, visit our event page.
Prize announcements will be held every 15 minutes—and of course, you must be present to win.
We hope to see you at the show!
About Forcepoint
Forcepoint is the leading user and data protection cybersecurity company, entrusted to safeguard organizations while driving digital transformation and growth. Our solutions adapt in real-time to how people interact with data, providing secure access while enabling employees to create value.