Forcepoint Cloud Security Delivers Value and Protection against Today's Cyber Attacks
Today, Forcepoint announced the availability of a host of new features to help businesses safely adopt cloud applications and provide human centric security to users everywhere they work. These updates can be downloaded now from the Forcepoint Support Portal.
Among the 15 features and updates we launched today, I'd like to highlight four in this post:
Forcepoint Web Security cloud application discovery and risk reporting
Forcepoint CASB and Forcepoint Advanced Malware Detection integration
Forcepoint DLP for Web and Email Incident Risk Ranking
Forcepoint Trusted Cloud Data Center expansions in North America and Europe
IT organizations lack the total control they once had to evaluate and deploy safe applications into the enterprise. Increasingly the technology budget is under direct control of the business unit leader who may fund cloud application subscriptions and cloud development projects without the in depth understanding of the associated compliance requirements or data protection best practices. IT is always responsible for determining the risk and preventing the loss of data.
Forcepoint understands the need to securely embrace innovation, cloud apps and mobility – and to do so easily without requiring yet another appliance to procure and manage. That's why Forcepoint Web Security 8.3 now includes cloud application discovery and risk reporting, new features aimed at eliminating those Shadow IT blind spots. Because you can't protect what you can't see.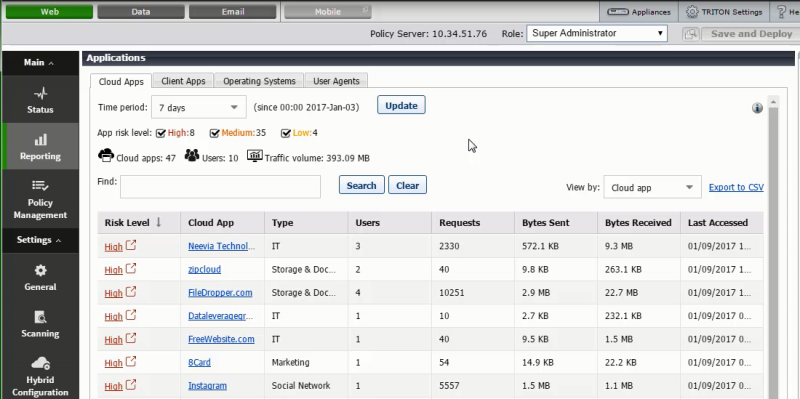 Forcepoint Web Security - Cloud Application Risk Reporting
Forcepoint Web Security utilizes the same cloud app catalog and risk scoring engine as our CASB product, giving customers the ability to better visualize cloud app adoption, usage volume, and risk exposure as a result of Shadow IT. And with GDPR on the horizon, gaining (and maintaining) visibility of risky applications in your organization may be a competitive advantage.
For organizations seeking more control of sanctioned cloud use, Forcepoint CASB provides the visibility and control of applications like Office 365 and Infrastructure as a Service (IaaS) platforms including Azure and AWS. But what really makes this announcement timely in the wake of recent malware attacks like WannaCry is the Forcepoint Advanced Malware Detection (AMD) integration that delivers added protection from malware to your information stored in cloud storage services. This layer is fast becoming a requirement in today's mobile environment.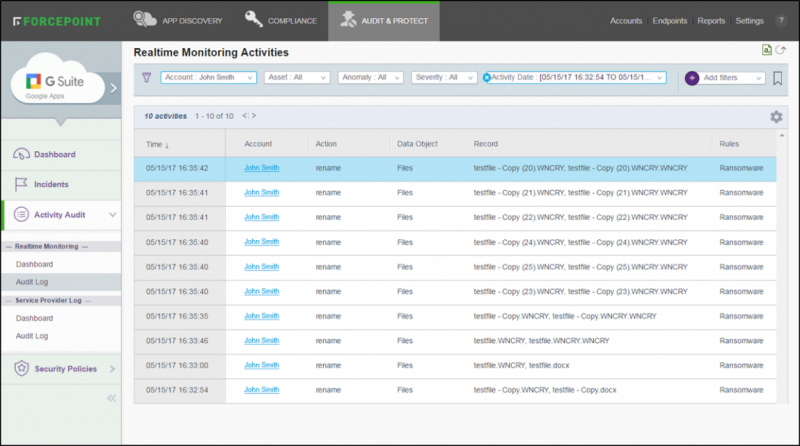 Forcepoint CASB real-time reporting of ransomware encryption of files on Google Drive.
Not all threats come from outside the organization. Some threats to your IP come from your users' accidental or even malicious exfiltration of data. Forcepoint is leading the industry in understanding the human interaction with critical business data and technology – or simply the human point. Last year Forcepoint DLP introduced Incident Risk Ranking (IRR)  in our data loss prevention (DLP) product, an innovation in risk-based data modeling that applies statistical data modeling and behavioral baselines to automatically identify and cluster incidents. Today this IRR feature is included in Web Security and Email Security products when DLP is added on. The integration of IRR with Web Security and Email Security makes it easier for security admins and investigators to quickly assess employee behaviors and prioritize responses to true insider threats from compromised or malicious intent instead of inadvertent errors caused by lack of awareness and broken business processes.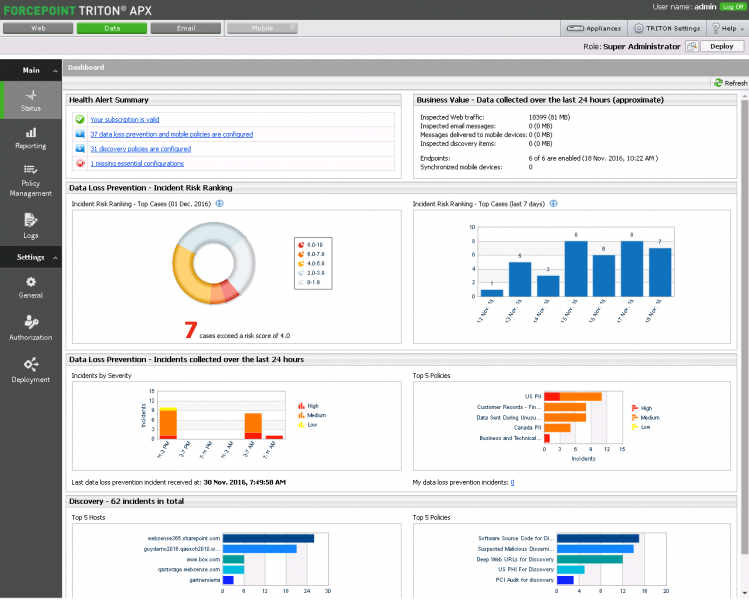 IRR with Web Security DLP Incidents
You have choices when it comes to cloud hosted security and Forcepoint continues a tradition of securing web and email traffic with an expansion of our global cloud data centers and certifications. These certifications are your verification that we have the required controls to protect your data and your customers' personally identifiable information (PII). We value the trust thousands of users place in us to deliver the premier cloud security service to protect users and data anywhere.
Learn more about Forcepoint Cloud Security solutions for coordinated web and email protection and cloud application security.
About Forcepoint
Forcepoint is the leading user and data protection cybersecurity company, entrusted to safeguard organizations while driving digital transformation and growth. Our solutions adapt in real-time to how people interact with data, providing secure access while enabling employees to create value.