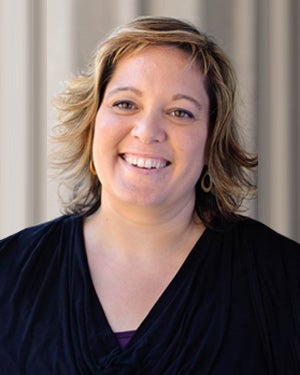 KC G. - Director- User Experience, San Diego, CA
KC will be speaking as past of a panel June 4, 2016 at the Slate Studio, Amy Poehler's Smart Girls & General Assembly event Women & Girls in Tech: The Future of Work, highlighting discussions with leaders at the forefront of technology, entertainment & media at the General Assembly at The REEF in Los Angeles, CA. The panel, Career Crafters, will discuss designing unique career paths within corporate culture, identifying the right culture for specific skill sets, and establishing career goals, in addition to strategies for managing diverse teams and mentoring the next generation of leaders.
Tell us what you do in 40 words or less.
I lead a talented team of UX (user interface) designers in creating intuitive and engaging product experiences for Forcepoint cybersecurity solutions.
What's UX Design?
It's the process of gathering business and user requirements and working with the product teams to design not just the interface, but also the overall experience to provide the best product possible. It also involves user research and usability testing to refine our designs. Our goal is to simplify complex concepts into intuitive, easy-to-use software.
Why did you choose UX Design?
I've always wanted a career that was both creative and challenging. I didn't plan to go into UX Design, but very quickly I realized I was drawn to it and started to pursue it actively.
How long have you been in your chosen field?
More than twenty years.
How has your field changed since you began in your career?
When I first started, I was a Graphic Designer hired as a Product Designer doing a combination of print, software design and everything in between. User Experience wasn't a discipline at the time. As it took shape, it wasn't uncommon to be the sole designer among large groups of devs, acting as the lone voice advocating for the needs of the user. Over the years it's been deeply rewarding to see the transition to all team members now acting as advocates for the user, as well as see UX Design gain recognition for the business value it provides.
What do you enjoy the most about your job?
I love the moment when you're sitting in a User Test and you see someone immediately grasping a product you've helped design – when they get it and start using it with no guidance or education, if feels like all our collective effort pays off in that moment. It's also happened more than once that I've stumbled across someone using a product in daily life, that unbeknownst to them I've worked on. I don't need them to know, I just love seeing them using the product as it was intended.
 What would you tell someone who is thinking about a career in your specialty?
It's an incredibly rewarding field that uses analytical skills to really consider the purpose and impact of what's being designed and creative skills to help bring it to life in a friendly and engaging way.
What would you do (for a career) if you weren't doing this?
Possibly something more focused on Fine Arts, but I'm quite happy with the career path I've chosen.
What makes Forcepoint a great place to work?
It's open and welcoming. People are eager to learn and engage to work through all the technical challenges cyber security brings with it.
 What does innovation mean to you?
I think of innovation is an opportunity to push yourself outside of your comfort zone and question what you know. The world of technology moves so rapidly, it's taking a moment to pause, think about the value, and if you believe it's valuable to pursue it from as many different angles as possible to help deliver the best solution to meet the needs.
In your opinion, what innovation(s) have had the most impact in your lifetime so far?
The internet in its ubiquitous state and smartphones. I think back to the days where we didn't have pocket-size maps constantly at the ready or all the information we have access to now. It definitely took us a lot longer to get anywhere!
Want to make a difference in today's hyperconnected world? Join Forcepoint™. Search Current Global Openings here.