Forcepoint Faces: Olga B.
Olga B. - Sr. Manager, Forcepoint Security Labs, San Diego, CA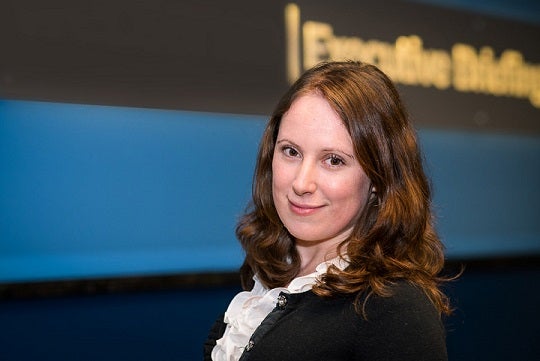 Tell us what you do in 40 words or less.
I am a Sr. Manager at Forcepoint Security Labs, specializing in security consulting. Our team works with customers and prospects on strategic initiatives that typically involve strengthening security posture through understanding the security landscape, exposing policy weaknesses, and defining strategy.
Why did you choose Security Consulting?
The combination of consulting and security is something about which I am passionate. Being able to translate my knowledge and expertise into helpful, meaningful engagements is a very rewarding feeling.
How long have you been in Security Consulting?
I have been in the Internet security field for more than 14 years.
How has your field changed since you began in your career?
I started my security career in January 2002, as a web and application analyst. At that time, content security was mainly about blocking. As the threat landscape evolved in its complexity, "preventing" and "understanding" threats became as imperative as blocking.
What do you enjoy the most about your job?
The process of helping customers solve complex problems and empower them to make good decisions.
What do people say or ask when they find out what you do?
People who are familiar with the cybersecurity field often tell me I have a really interesting job or that it sounds important. People who are not familiar with cybersecurity will often ask if I help companies to "figure out breaches" or "chase after bad guys". I appreciate all these comments and believe they show an increasing public awareness of cybersecurity.
What would you tell someone who is thinking about a career in your specialty?
To anyone thinking about cybersecurity as a potential career, I would recommend first making themselves familiar with the cyber threat landscape, its impact and its evolution. By this I mean getting to know the industry by paying particular attention to news, events, discussions, etc.. Keeping up with security trends, incidents/breaches, and recovery methods is important. This industry is largely about coming up with innovative solutions to common, unique, and unknown problems; it is not a field that allows anyone to stand still.
What would you do (for a career) if you weren't doing this?
I really enjoy volunteering, so probably something in the field of philanthropy.
What makes Forcepoint a great place to work?
My work at Forcepoint is both interesting and rewarding which, along with colleagues who brighten my day, is a rare combination.
What does innovation mean to you?
I associate the word innovation with the unconventional and the exciting.
In your opinion, what innovation(s) have had the most impact in your lifetime so far?
The redefinition of the concepts of "community" and "mobility" is an innovation that has positively affected my life. There are so many options for staying easily connected with friends, industry colleagues, collaborators and coworkers, going beyond even the obvious avenues of social media. It makes life enjoyable and much more efficient.
Want to make a difference in today's hyperconnected world? Join Forcepoint™. Search Current Global Openings here.
About Forcepoint
Forcepoint is the leading user and data protection cybersecurity company, entrusted to safeguard organizations while driving digital transformation and growth. Our solutions adapt in real-time to how people interact with data, providing secure access while enabling employees to create value.