Forcepoint Federal Focus: Millennials in the Machine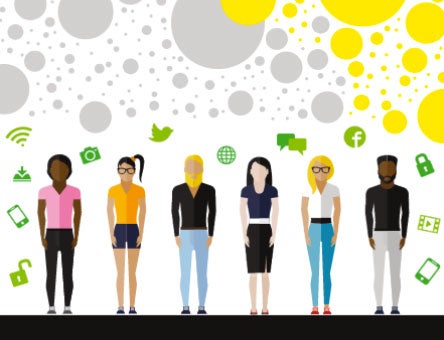 At the 2016 CyberMaryland Conference, Forcepoints' Ed Hammersla introduced the provocative topic of risks and impact to the federal government as we are headed towards a mass influx of millennials and exodus of boomers in the government workforce. His panel entitled Millennial Rising - Do Cracks in the Government's Generation Dam Signal a Cybersecurity Tsunami, was the result of a Forcepoint commissioned study to specifically identify millennial patterns and behaviors as they relate to the use of technology in the workplace and beyond.
The diverse expert panel headed up by AP tech reporter, Bree Fowler, and in addition to Ed featured Jeff Six of T.Rowe Price, Hamilton Turner, token millennial from OptioLabs, and Lisa Dorr, workforce development expert at the Department of HHS. The panel discussed the challenges and opportunities associated with the most technically advanced and connected generation and how their day-to-day online and device practices and behaviors may impact their employer's security posture.
While there is always room for debate during these types of discussions, the one thing the panelists quickly agreed upon was that millennials are constantly connected and technically savvy. This fact presents both risk and opportunity. The opportunity lies in the fact that millennials understand technology better than their predecessors and if trained adequately can actually be a benefit rather than a risk. To account for their potentially risky technology practices, organizations must build a complete security program that combines technologies, processes and training.
Time is of the essence to find a suitable balance between millennials and security, as millennials are projected to account for 75 percent of the workforce by 2025. Risky behaviors such as regular use of unprotected public Wi-Fi and sharing of passwords, combined with a belief that cybersecurity is solely the IT department's responsibility, presents some very urgent security challenges for government. If left unchecked, the potential for significant breaches in the future will be greater than we have ever seen.
Millennials are a great resource and need to be properly understood if they are to remain an asset and not a security liability. To learn more about how the federal government can prepare for and benefit from these up and coming "Digital Warriors," check out the complete panel discussion here.
About Forcepoint
Forcepoint is the leading user and data protection cybersecurity company, entrusted to safeguard organizations while driving digital transformation and growth. Our solutions adapt in real-time to how people interact with data, providing secure access while enabling employees to create value.