Forcepoint at the Gartner Security & Risk Management Summit Next Week
Don't Miss Ozgur Danisman's Session - 12 September
The trend is clear—companies continue to invest more in cybersecurity products and solutions. And chances are good that your organization has begun taking steps toward a path to SASE. But how do you know your SASE investments are paying off? Many of our customers currently have to dig through multiple dashboards while struggling to extract useful data from multiple SIEM tools.
Forcepoint is working to help solve the cybersecurity ROI challenge. Ozgur Danisman, Forcepoint's VP of EMEA Sales Engineering will address this topic and provide a preview of what we're working on to help measure your organization's SASE ROI and beyond.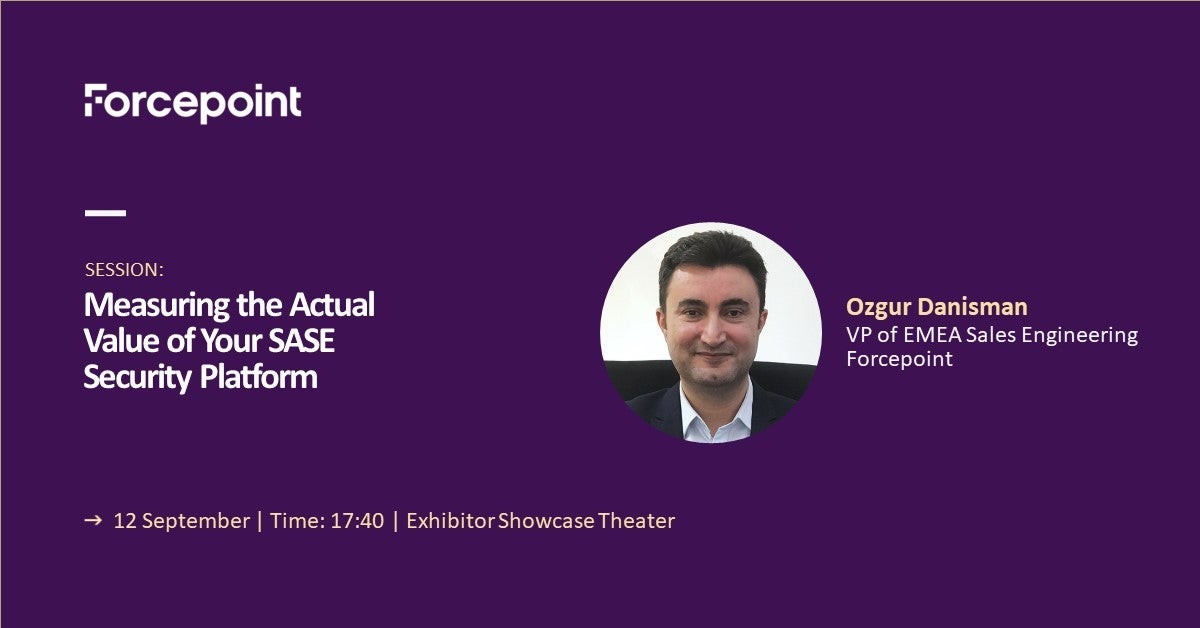 Meet with Forcepoint Security Experts at Booth 218
We welcome all of you to come see us at Booth 218. Do you want to hear more about our diverse deployments of SD-WAN, data protection and RBI? Our product experts will be happy to elaborate on any of the insights our customers have shared. Join us throughout the event, or every day at 5pm during our networking reception to discuss your organization's cybersecurity challenges, ask technical product questions, or to experience demos of the following:
Forcepoint ONE

Project Symphony

Forcepoint DLP

Forcepoint RBI with Zero Trust CDR
We look forward to seeing you in London next week!
About Forcepoint
Forcepoint is the leading user and data protection cybersecurity company, entrusted to safeguard organizations while driving digital transformation and growth. Our solutions adapt in real-time to how people interact with data, providing secure access while enabling employees to create value.