Forcepoint's Human Element Vision Becomes Reality at RSA 2020
RSAC 2020 is almost here, and we're excited to see this year's theme is Human Element. Three years ago, Matt Moynahan gave a keynote on the modern security path forward through human-centric cybersecurity. The industry is catching up to the vision we championed in 2017: Human-centric cybersecurity is the fastest way to proactively identify risk and protect your people, critical data, and networks.
Here's what we'll be up to next week:
SESSIONS LED BY FORCEPOINT
Wednesday, February 26 –  2:50pm – Modern Strategies for Protecting Users & Data in a Borderless World – Moscone South 207
Modern cybersecurity requires a mindset change. Attackers are compromising access, guaranteed. Understanding the behavior of users interacting with data is the modern attackers' kryptonite. Session will deliver five strategies to implement today that create efficiencies and enhance proactive security effectiveness while remaining flexible to anticipate and manage the ever-dynamic threat landscape. See more details around Forcepoint Senior Security Strategist Homayun Yaqub's session here.
SPECIAL BRIEFING WITH FORRESTER PRINCIPAL ANALYST CHASE CUNNINGHAM
Tuesday, February 25 – 11:30am – VIP Luncheon, Why Zero Trust?
We invite senior executives to hear from our CEO Matt Moynahan and special guest Forrester Principal Analyst Chase Cunningham on the topic of zero trust. Visit this page to learn more or request an invite to the luncheon.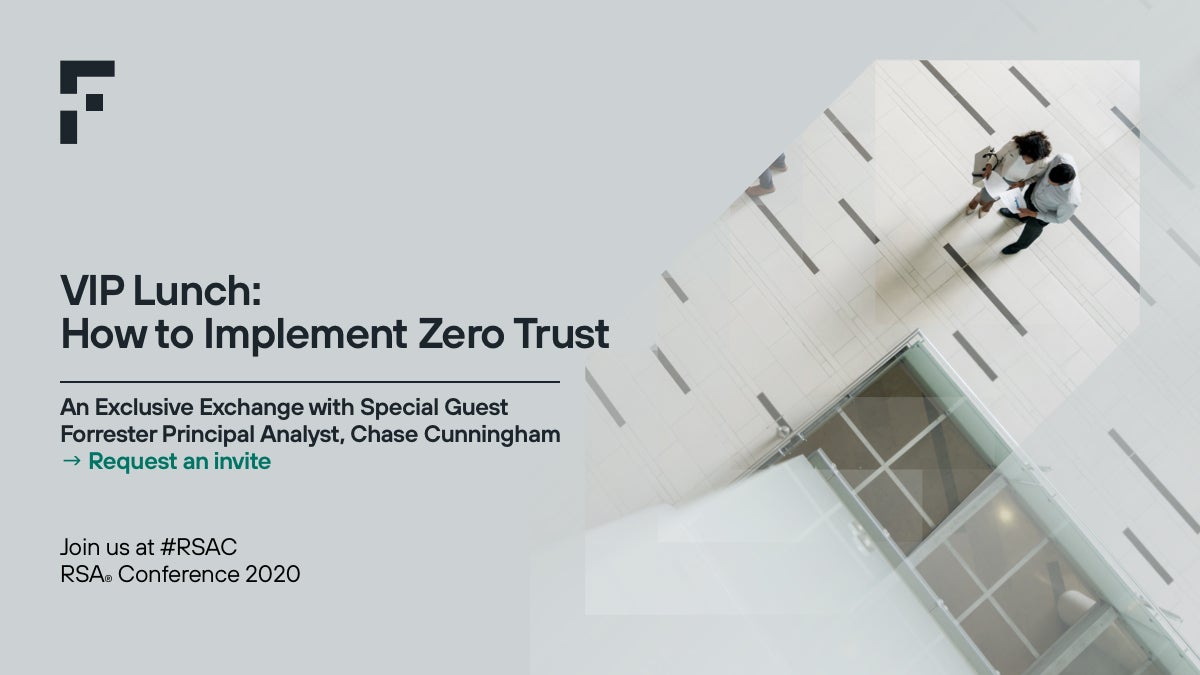 THE FORCEPOINT RSA BOOTH
While you are at RSA, please stop by the Forcepoint booth in the North Expo Hall, Booth N-5965. Throughout the conference, our Forcepoint experts will host ongoing theater sessions including:
Making sense of Zero Trust, CARTA and SASE
Dynamic User Protection Re-defined: Understand risky behaviors to prevent breaches
The Perimeter is Human: Dynamic Edge Protection in a cloudy environment
Risk-Adaptive Protection: Data security can't be black and white
BOOTH SESSIONS WITH FORCEPOINT CUSTOMERS AND PARTNERS
Tuesday, February 25 –10am - The Power of Integrating Data Classification with Forcepoint DLP
From the Forcepoint booth (N-5965) product experts from Boldon James will highlight how their business-centric data classification processes work seamlessly in Forcepoint DLP. This session will be repeated later at 2pm.
Tuesday, February 25 – 4pm – Forcepoint NGFW, DLP and CASB Azure Sentinel integration
Forcepoint product experts will showcase how Forcepoint's core products integrate into Azure Sentinel from Microsoft's booth, N-6059.
On a related note: Microsoft will discuss the integration at Forcepoint's booth (N-5965) on Tuesday, February 25 (10:45am and 3:30pm) and again on Thursday, February 27 (10:15am and 1:45pm).
Tuesday, February 25 – 11:45am – Amplifying Cloud Native Security with Forcepoint and AWS Security Hub
From the Forcepoint booth, experts from Amazon Web Services will showcase how Forcepoint DLP, CASB and NGFW products integrate with AWS Security Hub. Session happens again at 4:45pm on Tuesday and on Thursday, February 27 (11:15am and 2:15pm) at Forcepoint's booth (N-5965).
Wednesday, February 26 – 10:30am – How Highmark is Using Forcepoint DLP
Come by the Forcepoint RSA Booth  N-5965 to hear from Highmark Health execs Joe Schilling and Andy Hermance about how they're implementing Forcepoint DLP and its impact on their business.
COME NETWORK WITH US
Monday, February 24 – 7pm –Forcepoint Welcome Reception
This is a chance for our customers and friends to kick off opening night of the conference with Forcepoint executives at the Yerba Buena Terrace at the St. Regis San Francisco Hotel.
Tuesday, February 25 –  7:30am – Retail & Hospitality ISAC CISO Networking Breakfast
Forcepoint is proud to be partnering with RH-IAC as an exclusive sponsor for this year's peer-to-peer networking breakfast. Our VP of Research and Intelligence Raffael Marty and Senior Product Marketing Manager Ankur Chadda will be on hand during the session. If you're a CISO (or a senior cybersecurity executive) in the retail, restaurant, or hotel industry you can register here.
TRACKING RSA ONLINE
Beyond these events, Forcepoint will also make some exciting announcements during the show. If you're not attending RSA 2020 this year, but want to keep up with the latest, stay tuned to the Forcepoint blog, follow the #RSAC hashtag or connect with Forcepoint here on Twitter, Facebook or LinkedIn.
About Forcepoint
Forcepoint is the leading user and data protection cybersecurity company, entrusted to safeguard organizations while driving digital transformation and growth. Our solutions adapt in real-time to how people interact with data, providing secure access while enabling employees to create value.