Forcepoint India Solution Day
Human-centric approach key to protecting employees, critical business data and IP
Forcepoint India Solution Day, an annual multicity conference on IT security was held earlier in the month in India, in three of its biggest cities – Delhi, Mumbai and Bengaluru. The event titled "Securing The Human Point", was aimed at bringing in a change in the mindset of end-user organisations and IT partners to re-evaluate their security strategy for the coming years by understanding The Human Point. The forum brought together top security experts from across the globe who shared their insights and perspectives on the current and shifting cyber landscape discussing various concerns faced by CIOs and CISOs globally.
The event, across all the three cities, saw participation of over 700 delegates including Forcepoint customers and IT partners who participated in discussions to move cybersecurity not just as a securing technology but to understand human behavior and intent i.e. The Human Point. The high turnout at the events underlined the concerns customers and IT partners still face securing their digital assets despite having the latest technologies to secure IT infrastructure. Top draw at the events was presence of two of Forcepoint's global CTOs - Nicolas Fischbach, CTO of Cloud, and Brandon Swafford, CTO of Data Protection and Insider Threat. Their unique insights brought various partners' and customers' attention to shift their thoughts on security to the forefront rather than as a mere preventive measure.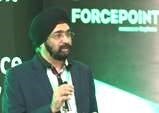 Surendra Singh, Forcepoint Country Director
Surendra Singh, Country Director at Forcepoint India  kicked off the day in each city highlighting how Forcepoint is reinventing cybersecurity by creating uncompromising systems that understand people's behaviors and motivations as they interact with data and IP everywhere. "Only by taking a people-centric approach can security be proactive rather than just a reactive tool," said Surendra. He further emphasized on how one should not consider IT security as just a preventive strategy but rather as a real time detection measure.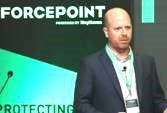 Nicolas Fischbach , CTO of Cloud
Presenting his views, Nicolas Fischbach, CTO of Cloud, explained in his keynote speech on how Cloud is about partnership between CIOs and CISOs. "At one end, where a CIO has to deliver business agility and a CISO has to take care of risk management, managing users becomes critical for both the parties," said Nicolas. "Forcepoint understands this business requirement and helps enterprises maintain their business agility and manage risk in real time by tracking employees' behavior and intent."
Nicolas suggested that the CISO role has to change from restricting users from access request to enabling them in a secured way.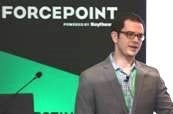 Brandon Swafford, CTO of Data Protection & Insider Threat
Brandon Swafford, CTO of Data Protection and Insider Threat, in his keynote spoke about the importance of identifying the behavior and intent of users and their interaction with critical business data and IP. "Organisations should detect individuals who are behaving in ways that pose high security risk by understanding the user's behavior and the context around it, said Brandon. "These could be emotionally stressed employees, those who want to hurt themselves, those who want to hurt the others and those employees who are stressed and want to escape," he added.
Overall, the Forcepoint Solution Day was well received by attendees who got a ringside view of emerging risks in the cyber world and the need for real-time corrective measures. The event drew in technology journalists from top media houses in India who got a perspective on The Human Point and how employees' behavior and intent are the link to emerging cybersecurity threats. Several of them including The Economic Times, Business World and Enterprise Innovation have reported about the need of understanding the human behavior as a key to enterprise security.
What the Industry is Saying About Forcepoint's India Solution Day:
About Forcepoint
Forcepoint is the leading user and data protection cybersecurity company, entrusted to safeguard organizations while driving digital transformation and growth. Our solutions adapt in real-time to how people interact with data, providing secure access while enabling employees to create value.