Forcepoint jumps to the Visionaries quadrant in 2017 Gartner Magic Quadrant for Enterprise Network Firewalls
It's official: Gartner has just named Forcepoint a Visionary in its 2017 Magic Quadrant for Enterprise Network Firewalls. In addition, we believe we were placed in the top-most position for Ability to Execute within the quadrant. This is a part of a growing series of accolades that Forcepoint NGFW has received in the last six months as customers, analysts and others recognize that our products, and our fundamental approach to network security, are different. Our software-based firewalls have centralized manageability, high availability and unrivaled security at their core so that they can deliver uniform capabilities and high performance seamlessly throughout physical, virtual, and cloud networks.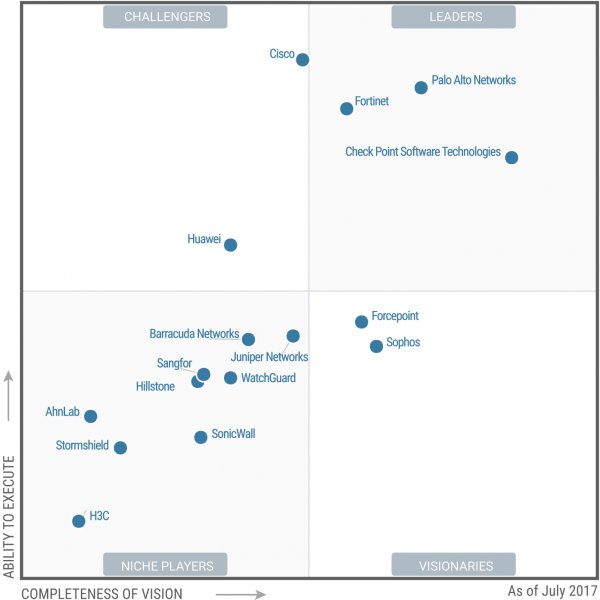 We're truly honored to be called a Visionary. We formed Forcepoint to transform cybersecurity. While other vendors seem to think that NGFWs and most other security products are just about blocking the latest malware or threat du jour, we see a bigger picture. At Forcepoint, we want to understand cyber behaviors and user intent as people interact with critical data so that we can empower employees with unobstructed access to information while protecting intellectual property and simplifying compliance. Our next generation firewalls are a key part of that, providing seamless visibility and enforcement of business policies throughout increasingly complex networks to protect where people and data come together – what we call the Human Point.
What Makes Forcepoint Different – Efficiency, Availability, Security
Forcepoint NGFW is different from other firewalls. It's designed specifically for efficiency, availability and security – three aspects that most other vendors just bolt onto the side. Customers tell us again and again that these are among the top reasons they choose to look at Forcepoint NGFW:
Efficiency. All Forcepoint NGFWs – whether in physical office buildings, virtualized data centers, remote branches, or the cloud, are managed together from our NGFW Security Management Center (SMC). According to customers, SMC can cut the burden of managing their network by as much as half. It also incorporates automation for common tasks and provides interactive visibility into what's happening, even at the furthest reaches of their network, to significantly reduce incident response times.
Availability. Forcepoint NGFW also stands apart from the crowd for its ability to keep the network running even when something goes wrong. This high availability goes beyond the simple failover support that most other vendors provide, enabling clusters of different models of firewalls to be mixed and matched for the utmost reliability.
Security. As one of the pioneers in detecting and defeating advanced evasion techniques, we take security seriously. Forcepoint NGFW received the highest security score on NSS Labs' 2017 test of next generation firewalls, and we build one of the best intrusion prevention systems (IPS) into every firewall. But, security is about breadth as well as depth, so we also include anti-bot protection, inspection of encrypted traffic, malware detection, data exfiltration controls, and even advanced proxy technology for protecting mission-critical applications.
Shortlists for Enterprise Firewalls are Changing
There's an important change underway in the network security industry. We're seeing the sets of products that customers evaluate – what purchasing departments call their "shortlists" – increasingly comprise those firewalls that put more focus on delivering actual security and operational efficiency at scale rather than just simple speeds and feeds. Network Security is now about connecting and protecting across diverse environments, without requiring armies of specialized IT experts.
We feel Gartner's positioning of Forcepoint as a Visionary with the highest Ability to Execute in the quadrant is exciting because it highlights that doing something different is important. We agree, and we'll keep striving to offer customers new and better ways to protect where their people and data come together amid a rapidly changing world.