Forcepoint Leaders Bring Home 2017 Gold and Bronze Stevie Awards for Women in Business
One of Forcepoint's internal credos is being "all in" to help build a transformative, world-class enterprise security company. Two of our executives – CHRO Kristin Machacek Leary and CIO Meerah Rajavel – were recognized last week for the innovative ways they are transforming their respective fields and we congratulate them for being fantastic examples of "all in."
It's a great honor to be recognized by the Stevie Awards, a premier international business competition. More than 1,500 nominations from organizations and individuals in 25 nations were submitted to the awards this year. And, more than 500 business leaders and guests, hailing from Iceland to India, attended the Nov. 17 awards gala in New York City.
Kristin won Maverick of the Year because she and her team have truly reimagined the role of HR to drive human-centric innovation for cybersecurity. She is a strong advocate for creating a climate of trust within organizations to empower everyone to act transparently and conduct business with mutual respect and shared values. By partnering with IT and the legal stakeholders, HR can create an ethos for a human-centered security business both in culture and product strategy. Kristin also led the integration of our Skyfence and RedOwl acquisitions this year and spearheaded Executive Vision Tours in 14 offices worldwide to maintain open lines of communication across our company.
Likewise, Meerah is a champion for innovation and has transformed Forcepoint's office of information and security technology. Her team consolidated eight collaboration platforms into one, saving on operating costs, and she is leading our internal workforce cyber defense program using Forcepoint's own behavior-based security capabilities -- a process she coined as "drinking our own champagne." Meerah is not only committed to innovating at Forcepoint, but also to bringing her learnings to our enterprise and government customers so they too can benefit from a people-centric, risk-adaptive approach to security. In addition, Meerah was named a finalist for Corporate IT Executive of the Year in the InnoTech Austin IT Executive of the Year award, given annually to top business and tech professionals here in Austin, Texas.
Here's Kristin accepting her award. She gave a shout out to our "amazing" company and mission to stop the bad and free the good. But, more importantly, she also thanked her husband Tim and her parents sitting in the audience for their support!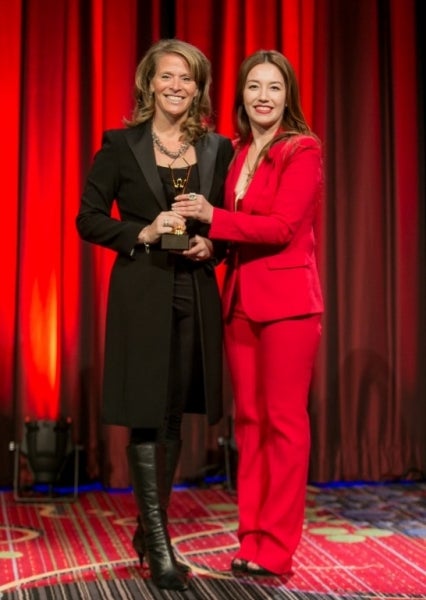 Kristin Machacek Leary accepting the Gold Stevie Award for Maverick of the Year
Congratulations to Kristin and Meerah for being mavericks and innovators!
About Forcepoint
Forcepoint is the leading user and data protection cybersecurity company, entrusted to safeguard organizations while driving digital transformation and growth. Our solutions adapt in real-time to how people interact with data, providing secure access while enabling employees to create value.