Forcepoint Minute Videos Now Available on Forcepoint.com
Back in March when our current situation prompted many organizations to implement working from home mandates, Forcepoint began publishing blog posts on a specific topic: securing remote workforces. As part of that effort, we also produced a series of short videos called the Forcepoint Minute. All six Forcepoint Minute videos are now accessible via the Forcepoint Minute page on our website.
Making It Safe for Your People to Work Remotely
COVID restrictions are lifting, but are your employees returning to the office full-time? Probably not. Research shows that both employees and employers want hybrid work arrangements that balance on- and off-site working. Effectively accommodating hybrid work requires security that protects data
Read the eBook
Organizations have been migrating workloads to the cloud for years. No question the current situation has accelerated cloud adoption for companies around the world. Forcepoint Minute videos represent quick, informational takes on the risks that affect your organization's ability to protect your remote users and the data they access across multiple apps and devices.
If your organization is currently looking to revamp its cloud security or data protection solutions, it will be worth a few minutes of your time browsing the Forcepoint Minute videos for insights on topics like:
Securely connecting remote workers to internal apps and data via VPNs

Extending on-premises network security to cloud apps

Securing inbound and outbound email

Securing users and data in a multi-cloud environment
Click this link or right-click the image below and click Open link in new tab to access all six of the Forcepoint Minute videos.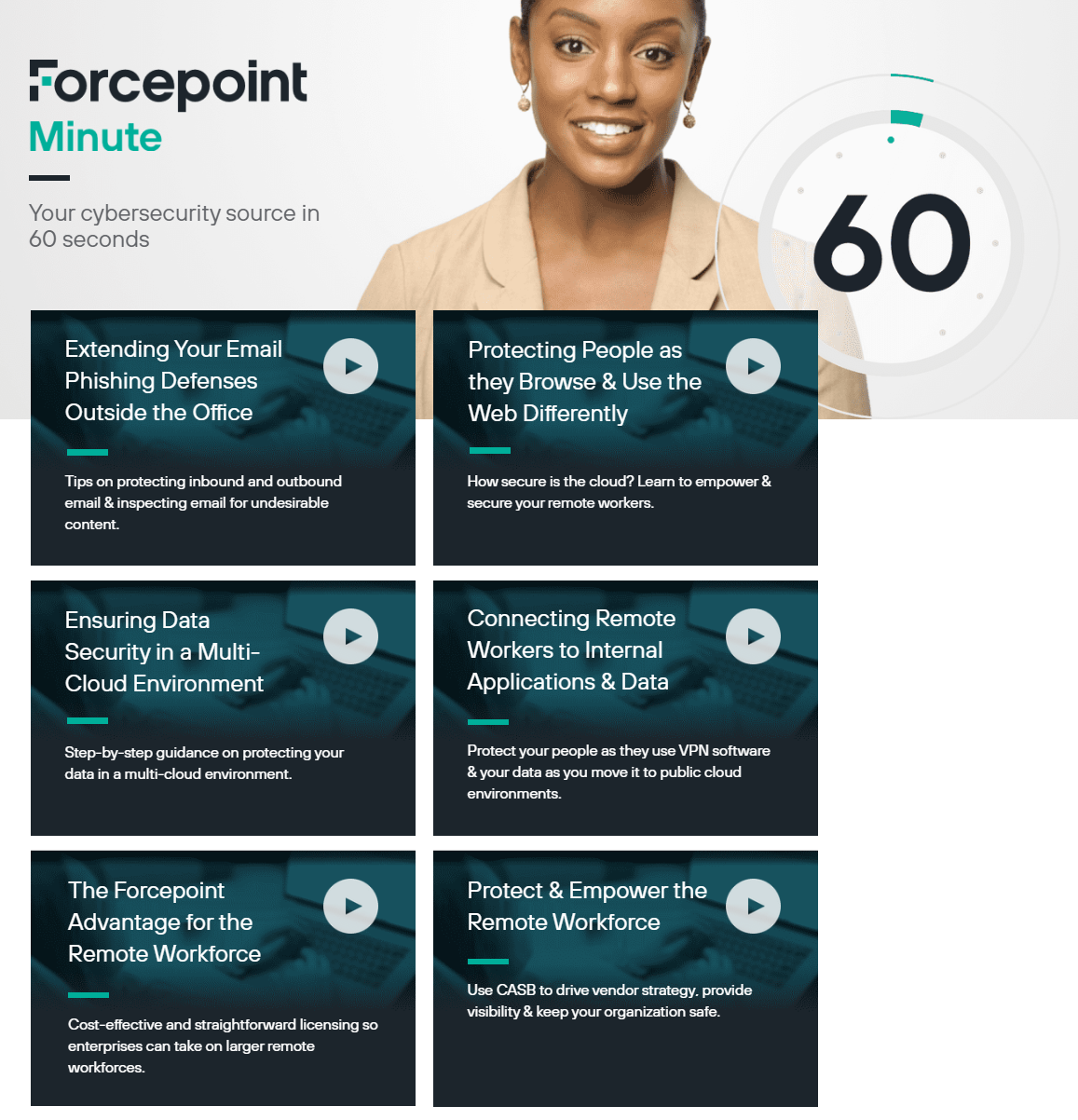 About Forcepoint
Forcepoint is the leading user and data protection cybersecurity company, entrusted to safeguard organizations while driving digital transformation and growth. Our solutions adapt in real-time to how people interact with data, providing secure access while enabling employees to create value.