Forcepoint NGFW: Bold Claims, Real Results
IDC Business Value Snapshot: The Business Value In Switching to Forcepoint NGFW
Many technology organizations make bold claims about ROI, but more often than not, there isn't any data to back up those claims. We are happy to break the mold. Our Next Generation Firewall (NGFW) is designed to deliver high efficiency, availability and security for distributed organizations. And, here are the numbers to prove it.
IDC Research, one of the leading research firms in the enterprise IT industry, has just completed a study of the results in switching from other network security solutions to Forcepoint NGFW. They summarized their findings in a Business Value Snapshot that offers business value data that our firewalls and intrusion prevention systems (IPS) can provide: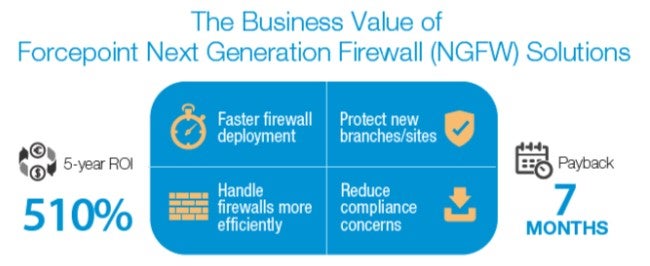 For the study we commissioned, IDC spoke with a variety of customers, both in size and industry, who reported that switching to Forcepoint improved their business in the following ways:
Operational Efficiency – Cutting TCO Burden
70% faster deployment of new firewalls
53% less IT staff time spent on network security administration
​73% faster incident response
Network Availability – Minimizing Downtime
70% less planned maintenance
38% fewer unplanned outages
Security KPIs – Combatting Theft and Breaches
86% fewer cyber attacks
​69% fewer breaches
Moreover, the IDC study found that Forcepoint NGFW paid for itself in an average of just seven months and provided a 510% ROI over five years. As most of us know, this is a key consideration for security professionals and the tremendous burden they face managing many security solutions. What's more, overall satisfaction with the benefits of their investment in the security tools is moderate to low, according to our recent Human Point report. With tangible results like cutting TCO burden and combatting breaches, we meet (and exceed) the expectations of such security investments.
As the numbers show, you can have the best of both worlds: high-performance networking and strong security. Both are critical in protecting data and IP by stopping the bad, and enabling high performance in the enterprise to free the good. Learn more from the full infographic and register for the forthcoming IDC white paper here.
About Forcepoint
Forcepoint is the leading user and data protection cybersecurity company, entrusted to safeguard organizations while driving digital transformation and growth. Our solutions adapt in real-time to how people interact with data, providing secure access while enabling employees to create value.