Forcepoint NGFW recommended by NSS Labs for seventh year in a row
Next-generation firewalls are considered a mature technology, with the first models hitting the commercial market back in 2007. But despite its tenure, there are still considerable differences in the costs, capabilities, and security from one model to the next. Independent testing is a valuable resource for organizations to quickly determine which vendors deliver on their marketing claims and keep up with the evolving threat landscape.   
Forcepoint "RECOMMENDED" in NSS Labs NGFW Group Test for Seventh Year in a Row
Forcepoint has the highest-ranked security efficacy in NSS Labs' NGFW and NGIPS tests, blocking all evasions on both tests.
Read the Report
NSS Labs released the results of its 2019 NGFW Group Test on Wednesday, July 17, 2019. Forcepoint is very pleased to announce that our NGFW has maintained its unbroken streak, meriting NSS Labs' prestigious rating of "RECOMMENDED" for the seventh year in a row.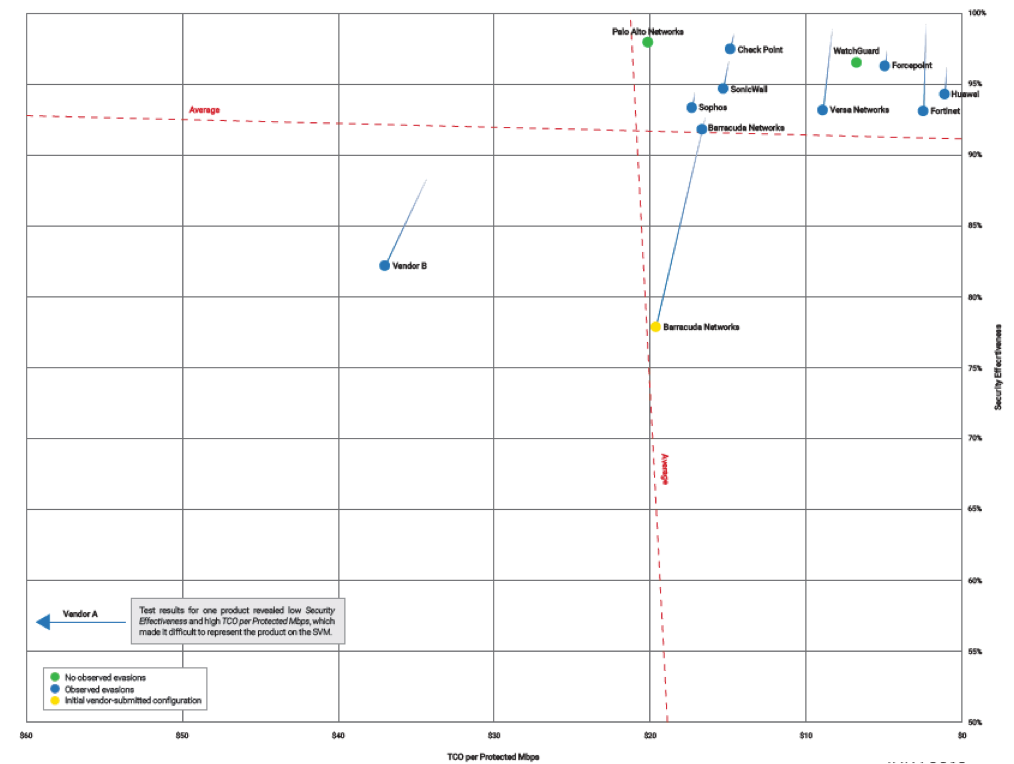 Our position in the far upper right corner of the above 2019 NGFW Security Value Map (SVM), reinforces what we hear from Forcepoint NGFW customers regarding its excellent combination of both security as well as cost efficiency. When you figure in the fact that Forcepoint NGFW includes enterprise class SD-WAN (which must be purchased separately with many other NGFW solutions), we deliver an even higher value.

SSL/TLS Performance
A common pain point that enterprises have with NGFWs in general is that the decryption of SSL/TLS traffic is extremely bandwidth intensive, crippling most NGFWs on the market. This is especially concerning when you consider that more than 70% of web traffic today is encrypted and is increasing each year. Organizations simply cannot afford the risk of allowing this traffic to flow into their network without inspection. Forcepoint's NGFW, by contrast, can inspect encrypted packets at almost the same speed as unencrypted traffic, making it an ideal choice for enterprises seeking greater visibility. With Forcepoint, organizations have the option to even further remove the burden of inspection from their NGFW by forwarding traffic to our cloud-based Web Security.

But what truly sets Forcepoint NGFW apart from the others is that we can offer organizations with distributed environments everything they need to securely connect their branch locations directly to the cloud, including SD-WAN, network security, web security and CASB, through one vendor, as well as the ability to centrally manage thousands of locations through one pane of glass. Contact Forcepoint or your Forcepoint partner to discuss how we can help your organization with your unique connectivity and security requirements.
About Forcepoint
Forcepoint is the leading user and data protection cybersecurity company, entrusted to safeguard organizations while driving digital transformation and growth. Our solutions adapt in real-time to how people interact with data, providing secure access while enabling employees to create value.