Forcepoint NGFW software achieves updated Common Criteria Certification
For years, the software that powers our Forcepoint Next Generation Firewall (NGFW) has held Common Criteria certification, one of the most rigorous and widely recognized standards for IT product security. On March 12, 2018, yet another release, Forcepoint NGFW 6.3.1, achieved certification with the Collaborative Protection Profile for Stateful Traffic Filter Firewalls Version 1.0 under the National Information Assurance Partnership (NIAP) Common Criteria Evaluation and Validation Scheme (CCEVS).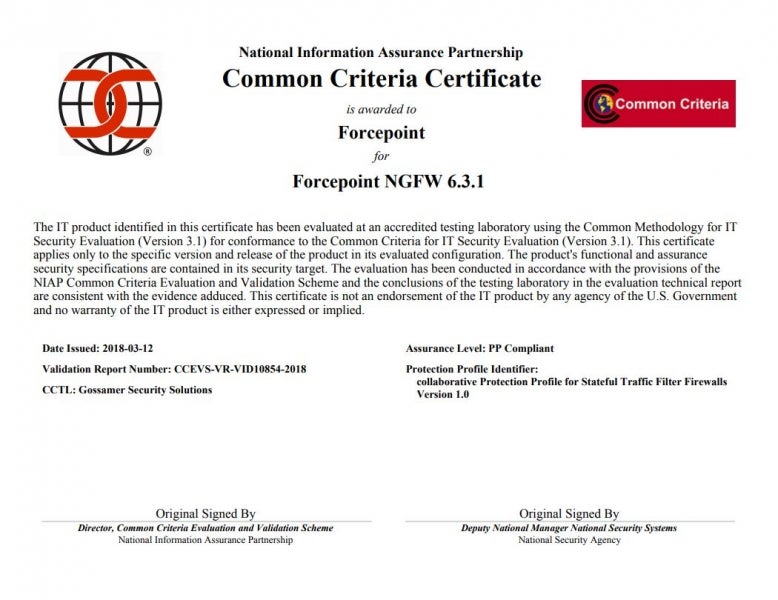 What's it all mean? Governments and commercial organizations around the world look to Common Criteria as a sign of vendors' commitment to quality, security and transparency. This latest certification is part of our ongoing commitment to providing SD-WAN and network security solutions that meet or exceed the most exacting levels of performance.
The formal certificate of conformance and details of the evaluation can be found here. Customers can download Forcepoint NGFW 6.3.1 from the Forcepoint Support Portal.
About Forcepoint
Forcepoint is the leading user and data protection cybersecurity company, entrusted to safeguard organizations while driving digital transformation and growth. Our solutions adapt in real-time to how people interact with data, providing secure access while enabling employees to create value.