Forcepoint SD-WAN achieves"RECOMMENDED" rating in latest NSS Labs group test
With the rapid adoption of cloud-based applications, many organizations are considering SD-WAN to deliver necessary performance to remote locations while reducing their spending on networking technologies such as MPLS. But with so many options, how can they quickly identify the best vendors to look at? This is where third-party validation can help.
NSS Labs, the industry's leading independent testing organization, recently released the results of its second SD-WAN group test. Forcepoint is very pleased that our SD-WAN solution excelled, meriting a "RECOMMENDED" rating.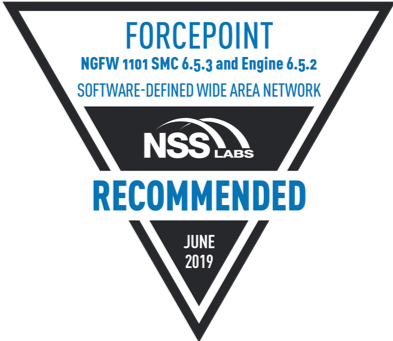 Performance
The evolution of SD-WAN has resulted in it becoming more of a capability than a standalone product. The difference in performance between SD-WAN solutions is pretty negligible, a clear sign that SD-WAN has become commoditized. It is for that reason that organizations really need to prioritize other factors when selecting an SD-WAN solution. Here are a few good questions to ask vendors:
Does your SD-WAN come with built-in security or will we need to supplement it with separate third-party security?
What types of security does your SD-WAN have integration with?
What level of resiliency does it offer? Can updates be made with zero downtime?
How many devices or links can be managed through your centralized management console? How simple is it to use?
With Forcepoint, up to 16 mixed-model devices can be clustered, making it an exceptional choice for enterprise environments that demand always-on availability. Configuration changes and security updates can be processed by an administrator at any time of day or night, without effect on the network since traffic is seamlessly routed to the other devices in the cluster until the updates are completed.
Security
Many enterprises use SD-WAN not only to reduce networking costs but also to connect branch offices directly to the cloud in order to reduce latency associated with backhauling traffic to a central data center. This approach can significantly improve user productivity, but it now exposes each location to the inherent risks that come with internet connectivity. For this reason, it is crucial that each branch office have the same level of security as headquarters-based internet gateways have to ensure assets are protected.
Forcepoint's SD-WAN is an integrated feature of our next generation firewall (NGFW), which achieved the highest security efficacy score in NSS Labs' 2018 NGFW Group Test, proving what our customers say regarding its superior ability to defend organizations from malicious attacks.
Manageability and Cost
Centralized management is another feature that should be a given for any SD-WAN solution. But not all management platforms are created equal. It's paramount that highly distributed enterprises select an SD-WAN solution that can not only provide visibility and management for all of their existing locations across the globe, but one that will also be able to be able to accommodate future growth. Forcepoint currently has customer deployments that manage thousands of devices and links through one pane-of-glass with our intuitive Security Management Console (SMC).
The cost of an SD-WAN appliance, even when taking into account things factors like deployment, ongoing operations, and support, is only looking at part of the picture. Like many other investments, organizations should evaluate what their total expense will be to both connect and secure each location. As mentioned above, Forcepoint's analyst acclaimed NGFW comes with its SD-WAN plus it integrates with Forcepoint Web, Email and CASB, offering both superior value and protection to enterprises.
Take a few minutes to review the results for yourself, then contact Forcepoint or your Forcepoint partner to discuss how we can help you to improve productivity and slash connectivity costs by implementing SD-WAN into your environment.     
About Forcepoint
Forcepoint is the leading user and data protection cybersecurity company, entrusted to safeguard organizations while driving digital transformation and growth. Our solutions adapt in real-time to how people interact with data, providing secure access while enabling employees to create value.