Forcepoint Wins Frost & Sullivan 2020 Indian Data Loss Prevention (DLP) Vendor Company of the Year
Forcepoint has been recognized as the 2020 Indian DLP Vendor of Year by analyst research firm Frost & Sullivan in a benchmark study covering the top DLP solution providers. This Best Practices Award is a testament to the tremendous success that Forcepoint has had in building customer success through its visionary innovation, business performance and customer impact.
We're honored to be recognized with this award and here's why we were chosen for this recognition:
Frost & Sullivan's research notes our visionary innovation, saying,
"Forcepoint portfolio of DLP solutions are built entirely on next generation security technologies. The company understands that traditional security measures won't work and hence need advanced techniques to prevent data loss."
"Forcepoint's Dynamic Data Protection remains unique in the industry where it integrates data protection tools with behavior centric analytics to prioritize high risk activity and automate policies to protect data in near real-time enabling workforce productivity without compromising on security."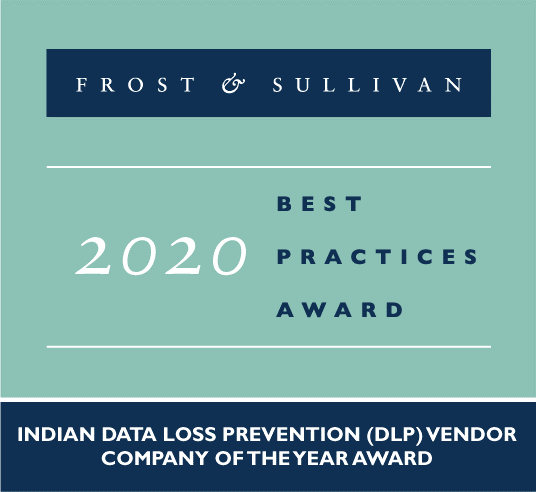 Frost & Sullivan was impressed with our business performance, saying,
"Several top brands across all industry verticals depend on Forcepoint's human-centric security that is relevant in today's times."
"Frost & Sullivan believes, with an aim to enable enterprises with next generation data loss prevention technologies Forcepoint will continue to be a long term strategic partner for many."
Frost & Sullivan recognized our ability to create customer impact, saying,
"With a strong channel partner network, Forcepoint makes sure that customer issues are being sorted out aptly. The innumerable customer success stories that Forcepoint has in the India market is a reflection of the strong brand equity the company has built over the years."
"Customer satisfaction remains high among Indian enterprises and IT teams take pride in using Forcepoint DLP solutions. In terms of integration of products, the solution syncs in well with existing IT setup and offers superior customer experience."
You can download Frost & Sullivan's report here, it concludes, saying:
"The need for DLP solutions is expected to increase as customers start to realize the need for data loss prevention…Understanding the specific need of enterprises, Forcepoint has been a market leader in DLP since quite some time. Its best in class solutions are meant for heterogeneous IT environments that include cloud applications, endpoint, network and discovery. The company's focus on accelerating compliance by empowering people to protect data through proactive threat response and remediation technique by use of advanced detection and control mechanisms, make Forcepoint a pioneer in the space."
This recognition, of course, wouldn't be possible without our customers and trusted partners. Thank you all for your continued support and constant feedback in shaping our products and services!
About Forcepoint
Forcepoint is the leading user and data protection cybersecurity company, entrusted to safeguard organizations while driving digital transformation and growth. Our solutions adapt in real-time to how people interact with data, providing secure access while enabling employees to create value.