Guardians of the Cyber Galaxy
Guardians of the Galaxy Vol. 2 premiered last week and if you're a huge Chris Pratt fan like me, you've been waiting for this for a while.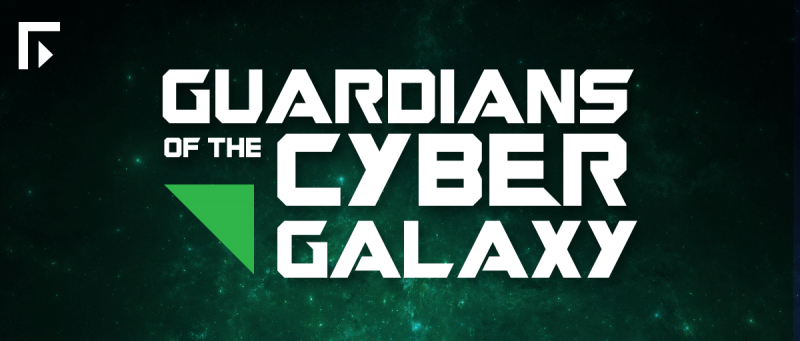 Guardians of the Galaxy Vol. 2 premiered last week and if you're a huge Chris Pratt fan like me, you've been waiting for this for a while. The Guardians' movie series focuses around unlikely heroes protecting the galaxy and unifying to – you guessed it – guard the galaxy. This got us thinking. While it might not be inherently obvious, if you take a look at the overall theme of the movies you can draw a parallel to an effective cybersecurity organization. Many of the best organizations and teams draw on different types of people to be stronger together. Now, we don't consider ourselves a band of misfits, but we definitely work together to guard the cyber galaxy. What follows are a few key teams in particular that work to ensure our customers and partners are safer than they were the day before with some light-hearted Guardians of the Galaxy parallels.
Forcepoint Security Labs™
First, our Forcepoint Security Labs team brings together researchers, engineers, analysts and thought leaders from around the world. They discover, investigate, report and – ultimately – protect our users from sophisticated, evasive and evolving Web- and email-based threats. They do so by understanding the behavior and intent of the external attackers and malicious, accidental and compromised insiders alike. We like to think of them as our Rocket Raccoon and Groot duo. The former has the cunning and technical skills for any challenge The Guardians face while Groot often provides the pure strength for such challenges. As the movie portrays, they are mercenaries that deal with criminals in order to make a living or claim a bounty. Our Security Labs team investigates cybercriminals in order to shed light on the most prevalent attacks or sneaky social engineering techniques that enticed employees to click a malicious email and become compromised insiders. They have reverse engineered Locky, reported on the gamification of DDoS via their Sledgehammer Report and most recently uncovered ransomware that was targeting the healthcare industry. This team works every day to identity and analyze the latest threats to our cyber galaxy and raise the profile of security in our customers' organizations. We spoke with Principal Security Analyst Carl Leonard from this team and he had the following to say: "Change is guaranteed. The cybersecurity field is still maturing and mistakes continue to be made by businesses and implementers. Understanding why that is and how we as a community can do better is fun. We are truly on the cutting edge." With this team, we can ensure that we are can keep up with a landscape that changes by the minute.
Office of the CSO & CTO
Whether you are creating a new security strategy for your company or agency, assessing or improving your existing security program across the cyber continuum of intent, or even actively under attack, the Office of the CSO/CTO supports you at every step. Each of our experts brings to bear experience to address an organization's needs, comprising over a century of experience in security. We like to think of this team as our Gamora: with tactical first-hand experience and a well-rounded skill set, they are unstoppable when it comes to information. In fact, some of these folks are former CISOs themselves, so they have the highest-level of preparedness to understand any challenge you may face as your users interact with critical business data and intellectual property. We asked Deputy CISO Neil Thacker what keeps him in his role and in the security industry:"The challenge. It's everyday 24/7. Keeping up with threats, focusing on education for employees, juggling with governance, risk, compliance and communicating business risk to support the success of the organization. I have signed up for the challenge and still enjoy the variety the role offers, 20 years in." This team acts as trusted advisors both internally and externally to ensure we are assessing all aspects of the risk we face wherever our data resides.
Product Security Team
Next, we focus on a team that ensures our systems are truly intelligent to protect the human point: where data is most valuable and vulnerable. Forcepoint's Product Security Team performs product security testing prior to release and throughout product lifecycles. They also provide internal teams with security evangelism, such as consulting and the development of standards. To support the development of threat-resistant products, our Trust Program provides rapid incident response to vulnerabilities by positively engaging the security community and executing efficient processes to ensure a consistent and timely approach to remediating vulnerabilities. We like to think of this team as our Drax the Destroyer. Drax is known for his resilience and strength in the pursuit of a singular goal: to defeat Thanos, the biggest threat to peace. We draw this parallel to our Product Security Team based on their tireless pursuit of one goal: ensuring that our products are resilient and the best products in the galaxy. We chatted with Peter Morin who leads this team and he spoke about protecting organizations and their end users: "Our team interfaces with internal and external sources, ensuring everything is working the way it should at the point where data is most valuable and vulnerable. We have programs set-up in order to test our products before they are released, test on an ongoing basis and provide an easily accessible way to submit potential vulnerabilities." With the Product Security Team, we round out our holistic approach to ensure we have the right people and intelligent systems integrating seamlessly to protect the cyber galaxy.
Executive Team
So, we have the expert teams and the tech – let's not forget about the leadership that brings us all together. Our fearless leaders, who we could consider (as a collective) the Star-Lord of our teams in this scenario, really live and breathe our vision. As Forcepoint CEO Matt Moynahan said at RSA Conference: "Security has never been more important and risks have never been more dire, but we as an industry are meeting their needs less and less." This is why Matt is so focused on what he calls subverting the dominant paradigm in our industry, by looking at intent and motivations of users. He is passionate that we have never had a greater opportunity as an industry to make an impact on safeguarding critical data and IP. With the ability to bring together all of the above teams, recognizing that each team in a silo cannot be as effective without one another, our executive team brings the passion to make us successful at combating threats.
Though we might not actually have superheroes Drax, Gamora, Groot, Rocket, or Star-Lord in our midst, we are proud to stop the bad and free the good. With all of these teams working together, we are more effective in defending our customers and ultimately the cyber galaxy we are entrusted to protect.
About Forcepoint
Forcepoint is the leading user and data protection cybersecurity company, entrusted to safeguard organizations while driving digital transformation and growth. Our solutions adapt in real-time to how people interact with data, providing secure access while enabling employees to create value.