Join Forcepoint, powered by Raytheon, at the 2017 DoDIIS Worldwide Conference!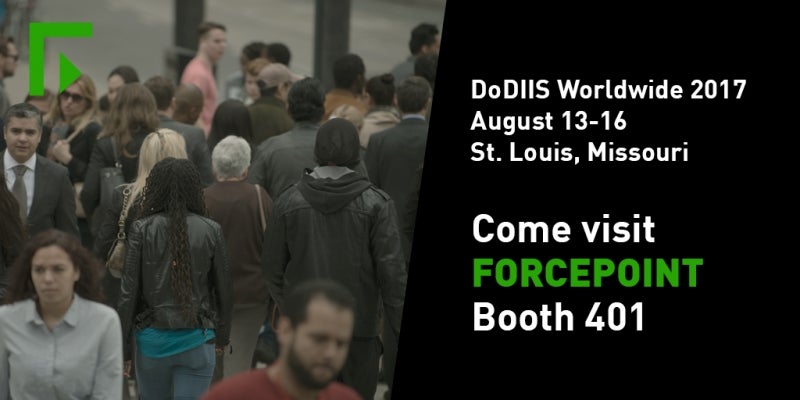 To highlight this year's DoDIIS conference theme of "Dominating Cyberspace Against Persistent Threats," Forcepoint will showcase how agencies can confidently and securely execute their missions in a zero perimeter world – a world that is moving to one without network boundaries – by ensuring the security of critical data as it moves to the cloud and spreads across an array of systems and devices.
Forcepoint's portfolio of intelligent systems provide the means to understand the flow of data across your enterprise to better ensure that critical data is secure everywhere it goes. While also understanding the norms of every individual – the rhythm of people – in order to identify the outliers, those behaviors that can indicate a person is stressed, careless or being falsely represented by another person or malware.
Forcepoint on the Agenda
Please join Forcepoint's Brandon Swafford, CTO-Insider Threat, for the "Industry Perspective on Cyber Espionage and Insider Threat (DIA)" panel – Monday 14 August, Room 103 at 1330.
This collaborative panel between industry representatives and Defense Security Service's (DSS) DoD Insider Threat Management and Analysis Center (DITMAC) will address: an Insider Threat program lifecycle, key collection, aggregation and analysis methodologies, as well as a summary of INSA's "Assessing the Mind of the Malicious Insider."
Forcepoint in the Exhibit Hall
To learn more about Forcepoint and see how our portfolio of intelligent systems is enabling users to securely pursue their national security missions, visit Booth 401 for a demonstration. Learn how to:
Support global missions with seamless and secure Cross Domain access and transfer solutions – even on the move.
Protect critical data located everywhere, from on-premises to the cloud
Identify high risk user behaviors to stop insider theft and the exfiltration of critical data caused by malicious or accidental user activity with UAM for Data Protection
Stop determined web attacks with advanced threat protection and prevent unwanted email, suspicious spam and malware attachments with CASB / Web & Email Security
Protect mission-critical networks and applications from sophisticated external attackers with NGFW /Evader Network Security
Harness analytics that employ virtual data warehousing, federated search, and powerful algorithms for automated information discovery to respond to cyber threats, fraud and other criminal activity while they are happening
Forcepoint Gives Back
In addition to providing cybersecurity solutions that protect the point where users and systems interact with data, Forcepoint is proud to support the most important human point – our people.
When you visit Booth 401 look for Jumanji, and his partner Marcus (a Forcepoint Sr. Sales Engineer) to learn about how service dogs are helping veterans with PTSD and the Freedom Service Dogs of America organization.
About Forcepoint
Forcepoint is the leading user and data protection cybersecurity company, entrusted to safeguard organizations while driving digital transformation and growth. Our solutions adapt in real-time to how people interact with data, providing secure access while enabling employees to create value.