My First Day as Forcepoint CEO
My name is Matt Moynahan, and I am honored to join Forcepoint™ as CEO.
Today is my first day on the job and I couldn't be any more excited to join this team. Only a little over a year ago, Websense was a stand-alone entity, Raytheon Cyber Products sat within Raytheon's Intelligence, Information & Services (IIS) business and Stonesoft was part of Intel Security. Now these teams and technologies form one company: Forcepoint.
I am excited about leading Team Forcepoint – we have the people, the technology, and the resources needed to bring our ambitious vision to life. And our vision is all about making our customers' businesses and their employees' lives better.
Having worked in the security industry for nearly 20 years, I was eager to join a company that spoke about possibilities, not problems. We understand that customers want better security and fewer products to manage. Our mission is to empower people to drive their businesses forward, safely embracing transformative technologies like mobile and the cloud without feeling inhibited or overwhelmed by today's cyber-security concerns. This spirit is captured in Forcepoint's motto, Forward Without Fear.
And while it's a new brand, Forcepoint has deep roots. We're built on a heritage of more than 90 years of innovation, experience and financial strength. We have the knowledge that comes from serving more than 20,000 customers in 155 countries.
Part of our new approach to security is learning from one another. In the coming weeks, I will be getting on the road to meet with our employees, partners, and customers, and will be sharing my thoughts and observations here on the Insights blog.
Additionally, over the next few weeks we will be rolling out a video series that will provide you more insight into my background and perspectives on security. The first is posted today; please take a few minutes to view the video.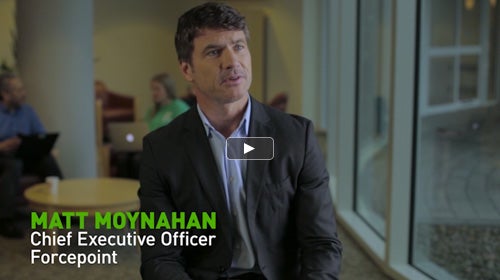 I am proud to be a member of Team Forcepoint, and I could not be more excited about our future! I look forward to hearing from you soon.
About Forcepoint
Forcepoint is the leading user and data protection cybersecurity company, entrusted to safeguard organizations while driving digital transformation and growth. Our solutions adapt in real-time to how people interact with data, providing secure access while enabling employees to create value.