How to Ensure Your Cross Domain Access Solution Will Support Your Remote Workforce
In remote workforce environments, the assurance of the secure and efficient movement of this data and flexibility of their chosen solution is even more essential to ensure mission success. As the software marketplace grows, there are several considerations for agencies to take into account as they evaluate the best Cross Domain Access solution.
Here are the most important ones:
Simplicity and Scalability
To ensure additional resources and infrastructure won't be required as your workforce grows and after an initial deployment, the complexity of the marketplace's multi-level access solutions must be taken into account. While some solutions become increasingly complex as the number of operating systems, clients and security levels increase, Forcepoint's Trusted Thin Client (TTC) does not. Forcepoint TTC currently supports more than 50 security levels and reduces the number of operating systems and resources while leveraging virtualization, reducing exposure to vulnerabilities and increasing flexibility to enable access to users in offices, in-theater, and in the field from virtually any device. To learn more, view the Forcepoint Trusted Thin Client datasheet.
Central Management
Although it is recommended that all deployments utilize multiple consoles to address outages and unexpected failures, a centralized console is key in reducing redundancy and unifying network management and agencies should inquire whether a centralized console is included in the base cost of their chosen solution. A built-in management console is fundamental in streamlining the dissemination of information to remote sites and provides a single audit repository for the client software to track user activity. Forcepoint's Trusted Thin Client surpasses rival solutions with a centralized management console and mature UI. The Trusted Thin Client datasheet also has details of the management console as well.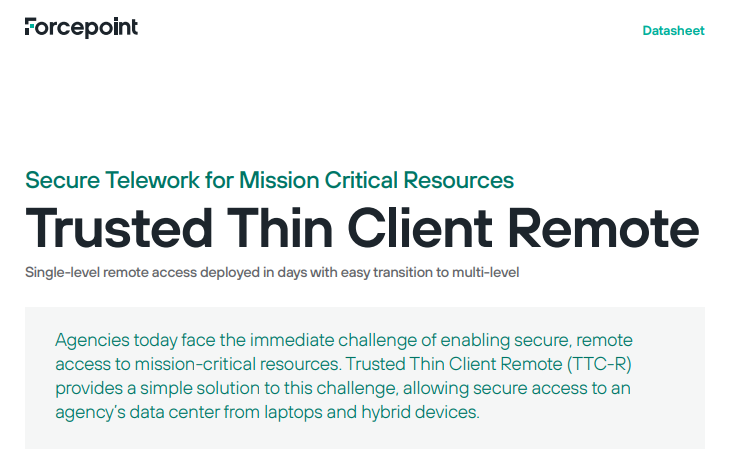 Raise the Bar & CSfC Program Compliance
Still a critical consideration for agencies to check on with vendors are their statuses with relevant Assessment & Authorization programs to include the NSA's Raise the Bar and Commercial Solutions for Classified (CSfC) programs. The NSA calls out it's CSfC program as an important part of its commercial cybersecurity and assurance strategy. Forcepoint Cross Domain solutions have been validated by the CSfC program under both the Mobile Access and Data at Rest capability packages. Moreover, Forcepoint continues to be the only commercial vendor with both Access and Transfer solutions recognized by the National Cross Domain Strategy Management Office's (NCDSMO) Raise the Bar Program. Learn more about our Raise the Bar-ready capabilities via the link.
Total Cost of Ownership
As always, the total economic must be evaluated when purchasing a Cross Domain Access solution to ensure cost savings now and for the life of your deployment. Beyond the upfront cost savings Forcepoint provides, our Trusted Thin Client solution does not require additional human resources and as a commercial-off-the-shelf solution (COTS), is significantly more flexible, enables quicker updates and provides higher performance at a lower cost. Forcepoint has helped our government clients realize an ROI of up to 239%. Learn more about the total economic impact of Forcepoint's Cross Domain solutions via this Forrester report. 
With the continuous evolution of the use cases for multi-level data access and transfer across Federal government, the vendor marketplace will continue to grow. However, agencies must remain vigilant in evaluating the long-term capabilities packages and certify compliance and quality. Forcepoint has been a trusted vendor to governments across the globe for more than 25 years and will continue to support the most critical missions and workforces. Learn more about our suite of cross domain products via the link. 
About Forcepoint
Forcepoint is the leading user and data protection cybersecurity company, entrusted to safeguard organizations while driving digital transformation and growth. Our solutions adapt in real-time to how people interact with data, providing secure access while enabling employees to create value.