RSA Conference 2017: Day One
As we begin the second full day at this year's RSA conference, a look back at day one.
We spoke with Forcepoint's Jim Fulton, senior director of product marketing and Dan Valez, director of insider threat operations to find out what's on the minds of visitors to the Forcepoint booth.
Jim Fulton:
"Attendees are looking for something that breaks out of the norm. They're not interested in scare tactics. In our case, they're really connecting with our message of protecting people and data where they come together."
Dan Velez:
"There's lot of attention on the insider threat and end point fatigue, particularly concern about putting more agents on laptops near or at their end of life where doing so could negatively impacting users and slow these laptops down even more than they may be already. There's also a lot of questions about differentiating DLP from insider threat solutions. My answer to this is the D in DLP is all about data – where it's going, whether it's following company policies. DLP is great for keeping users in lanes and for stopping and blocking data from leaving the network but it doesn't always consider the user. This is where insider threat solutions come in; gaining awareness and context on user behavior and selectively adjusting DLP policies so these employees are able to do their jobs effectively."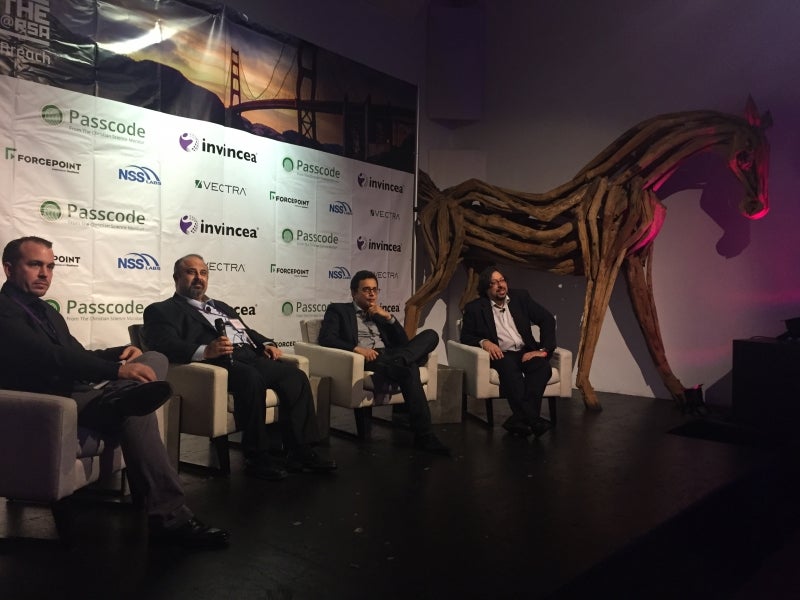 Above: Moderator with Vikram Phatak, Hitesh Sheth and Dr. Richard Ford at Invincea and CSM Passcode's third annual #BeatTheBreach Town Hall
In the evening, Forcepoint Commercial CTO Dr. Richard Ford also discussed the importance of taking users into account as part of Invincea and CSM Passcode's third annual #BeatTheBreach Town Hall as part of panel with Hitesh Sheth President and CEO of Vectra and Vikram Phatak, Chief Executive Officer and Chairman of the Board for NSS Labs, Inc. The panel discussed how security professionals are drowning in data and the need to separate the signal from the noise, the "accidental insider threat" from "real insider threat," among other things. All participants agreed that the one thing security executives should consider now that they haven't traditionally paid attention to in the past are the users; how users are interacting with data and why. Panelists emphasized that relying only on technology to protect your organization, without understanding the intent and motivations of your users on the network, only solves part of the problem. (Full video of the panel will be available soon.)
Check in tomorrow for a round-up of RSA Conference Day Two!
About Forcepoint
Forcepoint is the leading user and data protection cybersecurity company, entrusted to safeguard organizations while driving digital transformation and growth. Our solutions adapt in real-time to how people interact with data, providing secure access while enabling employees to create value.