The SASE CyberSummit: What You Need to Know
Next week, the Forcepoint team is excited to kick off The SASE CyberSummit—a virtual event happening Tuesday, June 23. If you're a business leader, a security executive, a security team lead or practitioner, we look to arm you with practical information to help your organization prepare for the cloud-powered cybersecurity future that's coming. 
At the SASE CyberSummit, you'll have the opportunity to hear keynotes from tech industry veterans like Dow Jones' Chief Product and Technology Officer, Ramin Beheshti and AWS' Vice President, Public Sector Partners and Programs, Sandy Carter. You'll also hear perspective from Forcepoint CEO Matt Moynahan and our Chief Strategy and Trust Officer Myrna Soto will offer closing remarks to wrap up the full day of activities.
Beyond the keynotes, our virtual summit will feature five practical 30-minute sessions designed to provide your organization with the building blocks for SASE success. It all culminates in a session with Forcepoint's Chief Product Officer Nico Popp, He'll leave you with a Blueprint for SASE Success—a practical approach to SASE that includes evaluation criteria for SASE platforms. This recent interview of Nico provides some insights into Forcepoint's vision of cloud-delivered security.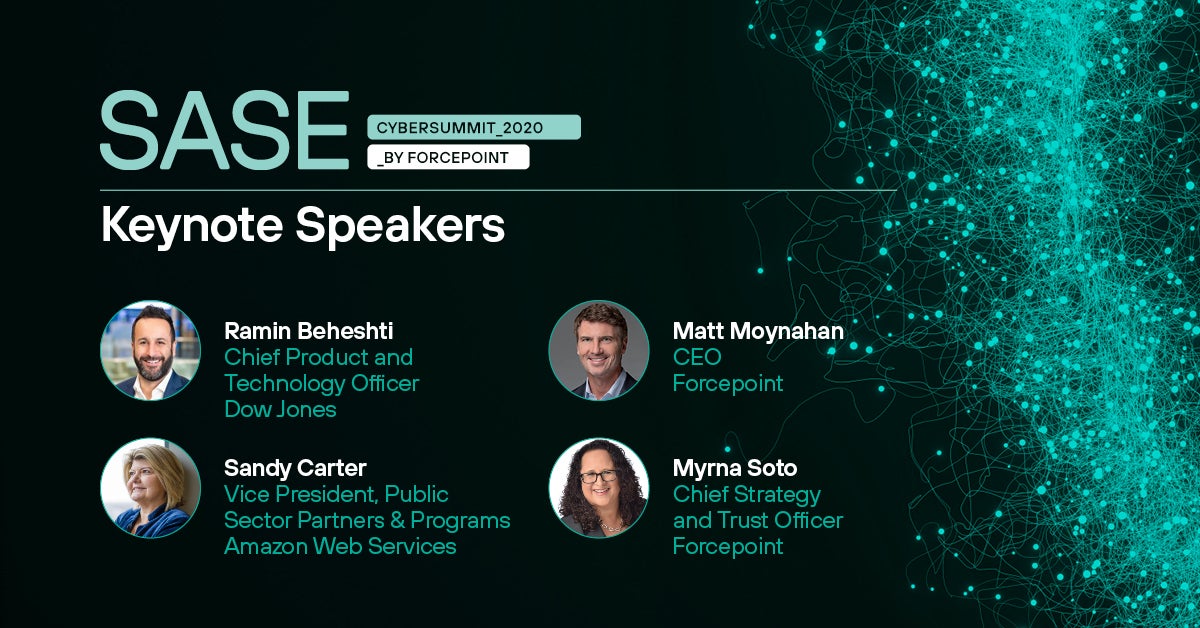 Between sessions, you'll be able to spend time in the Virtual Pavilion to explore eight sponsor booths where you can speak with experts via live video chat. You can also check out demos and download related content there as well. At the Forcepoint booth, you'll be able to experience the following demos:
Data Protection in SASE Architecture

SASE in Action

Identifying Risky Behavior in SASE Architecture
As an attendee, you'll earn points by attending speaking sessions, chatting with staff and sponsors in the demo booths and for downloading information. We'll be giving away a handful of Raspberry Pi 4 kits to those on top of the leaderboard.
For those who have registered, you'll be receiving a confirmation email early next week which includes a link that will provide access to the sessions on the morning of June 23. For those who haven't registered, there's still time! Click on the Register Now button on the right or via the previous link. Once you complete the registration, you'll receive a confirmation email that contains the access link early next week as well.
During the sessions on June 23, keep up with the latest by tracking the #SASECyberSummit hashtag on Twitter. Visit the SASE CyberSummit site to get more details on the five-step sessions.
We look forward to seeing you next week!
The SASE CyberSummit Agenda (Note: All times Central Daylight Time):
9:00am - 9:03am 

Summit Welcome - 

Matt Moynahan

, Forcepoint CEO


 

9:03am - 9:30am

 Navigating the Cybersecurity Path Forward - 

Ramin Beheshti,

 Chief Product and Technology Officer - 

Dow Jones


 

9:30am - 9:50am

 CEO Perspective - 

Matt Moynahan

, Forcepoint CEO


 

10:00am - 10:30am

 Step 1: Connectivity in a Borderless World - The New Edge




Nico Fischbach

, Forcepoint Global CTO 

and 

Elie Abouzeid

, VP Information Security - 

DentaQuest


 

10:30am - 11:00am

 Step 2: Secure Access for a Remote Work Environment




Florent Fortune

, Forcepoint VP & GM Network and Edge Protection

 and 

John Peterson

, CPO - 

Ericom


 

11:00am - 11:30am 

Step 3: Data Protection in a Multi-Cloud Environment 




Eric Jackson

, Forcepoint VP Product Management

 and 

Keith Vallance

, Head of Product - 

Boldon James


 

11:30am - 12:00pm 

Fireside Chat - 

Lisa Schreiber

, Forcepoint Chief Customer Success Officer 

and 

Carrie Staugler

, Insider Threat Manager - 

PayPal


 
12:00pm - 1:00pm Lunch | Networking Pavilion | Demo Sessions
 

1:00pm - 1:30pm 

Creating a Culture of Innovation




Sandy Carter

, Vice President Public Sector Partners & Programs - 

Amazon Web Services


 

1:30pm - 2:00pm 

Step 4: Becoming More Risk Aware by Understanding User Behavior -  

Homayun Yaqub

, Forcepoint Sr. Director of Strategy

 and 

Kimberly Finnigan Zink Esq.

, Global Information Security Compliance Officer - 

GlobalFoundries


 
2:00pm - 2:15pm Networking in Pavilion | Demo Sessions
 

2:15pm - 2:45pm 

Blueprint for SASE Success - 

Nico Popp

, Forcepoint CPO


 

2:45pm - 3:00pm 

Closing Remarks - 

Myrna Soto

, Forcepoint Chief Strategy & Trust Officer


 
3:00pm - 4:00pm 

Networking in Pavilion | Demo Sessions
About Forcepoint
Forcepoint is the leading user and data protection cybersecurity company, entrusted to safeguard organizations while driving digital transformation and growth. Our solutions adapt in real-time to how people interact with data, providing secure access while enabling employees to create value.