Web Security: it's about delivering a superior customer experience
At Forcepoint we strive to deliver a superior customer experience across our entire portfolio. And because we go beyond the traditional threat-centric approach and engineer our products with a human-centric focus, customer feedback is essential to making sure our products outpace expectations, exceed industry standards, and adapt to the needs of our customers along their digital transformation journey. It's what has enabled us to be a leading Secure Web Gateway provider worldwide.
Customer feedback is the ultimate validation that we are both protecting enterprises from the evolving threat landscape, and our innovation is helping organizations scale how they protect their data and their people – everywhere.
This is why we are ecstatic to announce that Forcepoint has been named a January 2019 Gartner Peer Insights Customers' Choice for Secure Web Gateways. This is a proud moment for us because this is based on your feedback! Because to us, our relationship with our customers is more than just a transaction, it's a true partnership.
Here are some of the latest reviews from Gartner's Peer Insights for our Secure Web Gateway:
"It is an easy-to-use solution, advanced analytics, complete security from day zero."
– Security Product Manager in the Communications Industry
"Strong Categorization, Security Analytics, Good Reporting and Trusted Advisor Vendor."
– Security Engineer in the Retail Industry
"Best partner bar none."
– Security Analyst in the Healthcare Industry
Creating a lasting partnership with our customers is our goal – especially as digital transformation drives convergence across technologies. Forcepoint is taking things to the next step – evolving our products to drive simplification, cost efficiency and innovation across the technologies needed to modernize the infrastructure and security across organizations.  
Gartner Peer Insights Customers' Choice constitute the subjective opinions of individual end-user reviews, ratings, and data applied against a documented methodology; they neither represent the views of, nor constitute an endorsement by, Gartner or its affiliates.
Other testimonials
Here are some more experiences customers have reported with our Web Security Cloud: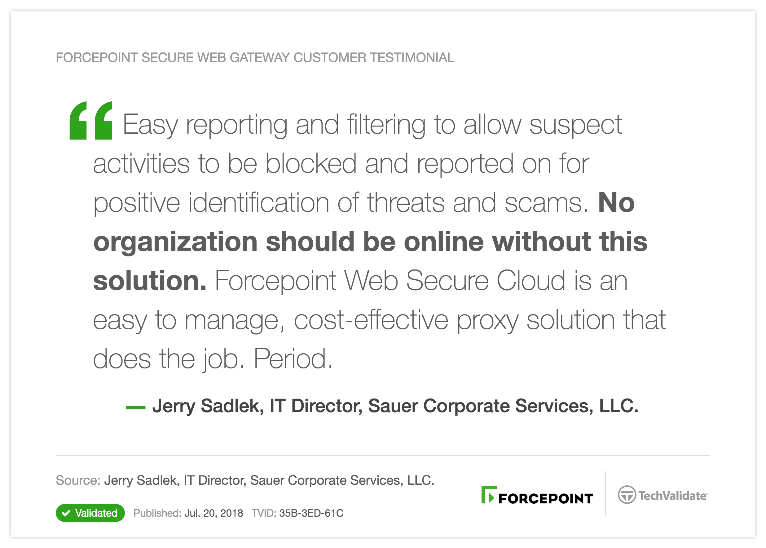 ..and you can read more of these on TechValidate here.
We don't just say we value your feedback, we really mean it. It's what gets us excited and eager to continue designing solutions that go beyond just checking the box. To all of our customers who took time to submit feedback and reviews, thank you!