Forcepoint 2018 Security Predictions
As we round out what has been one of the most impactful years in cyber security we are pleased to announce the Forcepoint Security Labs' cyber security predictions report for the forthcoming year.
Subject matter experts across our global Security Labs, Innovation Labs, CTO and CISO teams have pooled their collective insights to give you an accurate insight into the landscape of the future.  We have dived into the current threat landscape, looked at business challenges on the horizon and surveyed enterprise leaders to arrive at what we think are key areas of risk that will present themselves in 2018 and beyond.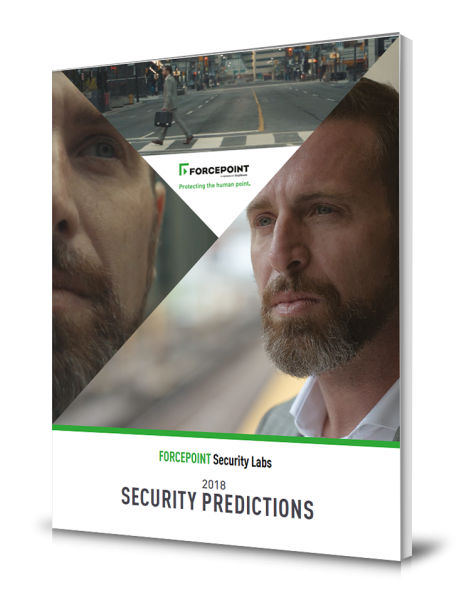 8 for '18
In our report we describe the major shifts that we expect in 2018.
With enforcement of the European Union's General Data Protection Regulation (GDPR) looming how will businesses behave in the months leading up to, and after, May 2018?  How will organizations strike a balance between privacy and security in a world where privacy fights back?  We look at the current state of ransomware to anticipate where cyber criminals will strike next.  Will they move their attention to the Internet of Things or move their target to a different goldmine?  As more of the web moves to HTTPS by default we anticipate the implications in 2018 as we discuss browser features and inspection of encrypted traffic.
We discuss these topics and more in our full report.
How did we do last year?
Early this month we analyzed the accuracy of last year's predictions in the Forcepoint 2017 Security Predictions Report Card. You can read that here.
Download the 2018 report
Our "Forcepoint 2018 Security Predictions" report contains the complete set of 8 predictions for 2018.
You can read and download the full report here: https://www.forcepoint.com/2018-cyber-security-predictions
Listen to our live webcasts
We are hosting multiple live webcasts delivered by our team of security experts.
You can register at the following links:
EMEA time zone
Tuesday, November 21 - 10:30 a.m. GMT / 11:30 a.m. CET / 4 p.m. IST
Register: https://www.forcepoint.com/2018-predictions-emea
AMERICAS time zone
Thursday, November 30 - 11 a.m. PST | 1 p.m. CST | 2 p.m. EST
Register: https://www.forcepoint.com/2018-predictions-amer
Non-English Language webcasts
We are also hosting non-English language webcasts.  You can review our webcast series for details: https://www.forcepoint.com/forcepoint-2018-security-predictions-webcast-series
An insightful analysis from our Chief Scientist
Forcepoint's Chief Scientist, Dr. Richard Ford, reviews the predictions in his blog "Predictable Surprises."
About Forcepoint
Forcepoint is the leading user and data protection cybersecurity company, entrusted to safeguard organizations while driving digital transformation and growth. Our solutions adapt in real-time to how people interact with data, providing secure access while enabling employees to create value.