Italian Healthcare Provider Protects Patient Data While Allowing Lifesaving Information to Circulate Freely
With strong, unified web and email protection, this healthcare provider can safely keep up with the benefits of modern patient care delivery and communications technologies
Protecting the network against possible compromise that could lead to data loss is a critical priority for this Italian healthcare system. That's why, when it experienced a successful cryptolocker attack that put a halt to business as usual, it set out to replace outdated point products with a unified web and email security solution. Today, Forcepoint helps the organization to better keep up with the modern technologies that improve patient care by protecting against evolving vulnerabilities that threaten critical data.
Challenges
Protect private and sensitive data for millions of patients while keeping it accessible to healthcare staff.
Guard against outside threats such as cryptolocker attacks that can cripple the system.
Approach
Implement Forcepoint Web and Email Security for a single solution to protect both channels, with flexible access policies and advanced threat detection.
Results
120,000 malicious emails blocked within 24 hours.
Dramatic drop in the number malware removals from end user desktops required.
Today's healthcare industry is increasingly digitized. Electronic health records have become standard, and providers are steadily increasing use of mobile technologies like tablets and smartphones to record patient data in central locations and seamlessly communicate with colleagues. While accessibility of patient medical data is easier and more important than ever, so is ensuring that data is only accessible by the right people.
A malware infection leads to a much-needed remedy
Data breaches can lead to expensive fines for noncompliance—not to mention loss of patient trust and impact to the institution's reputation— but medical data is a hot commodity on the black market. It's more than just patient personal data that can be retrieved, but a wealth of information that could facilitate insurance fraud and more. In addition, system shutdowns in the case of malware infection can leave the institution unable to treat patients, perform procedures, or access data or online devices. While medical data is some of the most sensitive and critical to protect, ease of access among the right people advances healthcare delivery by improving communication among healthcare professionals and their patients.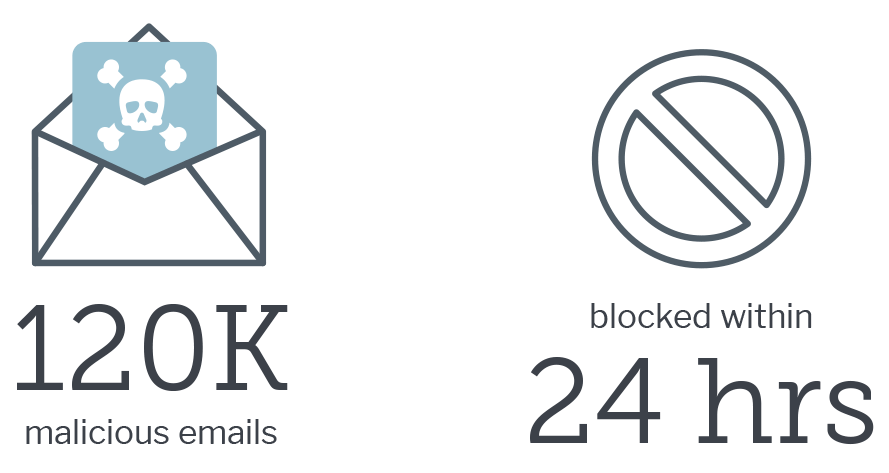 This regional healthcare provider serves millions of patients across seven social-health districts and four hospitals in Italy. As it continues to modernize its IT environment by providing better access to information and incorporating more connected medical devices, its growing cyberattack surface creates new potential entry points for viruses and ransomware—a challenge further complicated by the system's size and complexity.
The organization had already suffered the impact of an environment that wasn't secure enough when it fell victim to a cryptolocker attack. "We had to shut down our systems for an extended period of time in order to remove the malware and recover all of our assets," said the IT Infrastructure Manager. Its existing proxy server solution for web browsing and email spam-blocking left it vulnerable to system-crippling attacks. "We decided to make a radical change," explained the manager, "not only because of the obsolescence of our current solution but also to achieve more precise control."
Security focused on humans over hardware
The healthcare provider needed a solution that could balance the best possible data protection with the least possible disruption to patient care and service. To do this, it had to stop external attacks through web and email channels to keep systems running and ensure data is protected, while still allowing patients and staff to securely access and share data as needed. So, it turned to Forcepoint to replace outdated, disparate point products with Forcepoint Web and Email Security.
This unified solution was the beginning of a new security strategy, more focused on end users than machines and network perimeters, providing more holistic protection of web and email use. Allowing for customization of policies based on role, healthcare providers and other employees are afforded the right level of freedom and access for their jobs instead of being subject to a broadly applied, one-size-fits-all policy. "For us, it was important to have a single solution to cover both channels, web and email, with granularity while having the reliability and support of a trusted security vendor," said the manager.
"We didn't expect such a quick ROI, but this has reassured our trust in the effectiveness of the Forcepoint solution."
Forcepoint enables real-time identification and classification of web traffic for the most up-to-date prevention, as well as customizability to provide more precise control over user activity on the web. Forcepoint's Advanced Classification Engine and ThreatSeeker Intelligence work together in real time to accurately identify and classify network traffic, more effectively decreasing risk from malicious websites, preventing targeted email attacks, and identifying the most high-risk users.
Proactively identifying and acting on web-based vulnerabilities
After deployment, the organization saw quick return on its investment, reaffirming its trust in the Forcepoint solution. On the web browsing side, the Forcepoint solution led to a better definition of access privileges, providing sufficient granularity with customized controls for web browsing. For instance, web browsing related to diagnoses and treatments can be allowed for those administering care, and medicalrelated shopping sites are accessible to employees who order supplies.
Blocking 120,000 malicious emails, bolstering worker protection and productivity
Similarly, the email security side showed great results in detecting and preventing attacks. Within 24 hours, the solution blocked 120,000 malicious emails—totaling about 85% of the organization's email traffic and 30 GB of messages. "The numbers speak for themselves," the manager said. "We didn't expect such a quick ROI, but this has reassured our trust in the effectiveness of the Forcepoint solution."
Using automation to free up staff time
These results are also backed by a better use of internal resources. Once overburdened by ineffective rules and controls, tasks are now automatically delegated to the Forcepoint solution. The organization recorded a dramatic drop in the number of interventions required by end users to remove malware from their desktops.
"After the Forcepoint deployment, we have seen, almost immediately, the effectiveness of having the right security solution in place."
Cultivating a secure environment for continued IT modernization
"After the Forcepoint deployment, we have seen, almost immediately, the effectiveness of having the right security solution in place," said the manager. Staff are now free to do their jobs and serve their patients safely, and IT security can focus on further strategic modernization in its environment to continue improving its patient care standard.
Regional heath authority with 4575 employees provides hospital, counseling, and pharmacy service to millions of patients.