Forcepoint NGFW Delivers Industry-Leading Efficiency, Availability and Security
IDC: The Business Value of Forcepoint Next Generation Firewall (NGFW) Solutions
In a recent study, IDC analyzed the business value and benefits of supporting network operations with Forcepoint NGFW solutions. The research included interviews with eight organizations relying upon Forcepoint's NGFW to connect and protect their networks and business operations.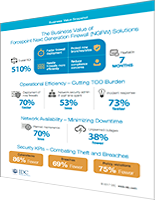 IDC created a model based upon their analysis to identify the costs and real benefits of deploying Forcepoint NGFW. The highlights of this analytical model are captured in their Business Value Snapshot; the complete results will be presented in their forthcoming whitepaper.
Be sure to pre-register to receive the IDC Whitepaper as soon as it's released to learn how the eight organizations surveyed realized improved efficiency, availability and security with Forcepoint NGFW, as well as a return of cost in only seven months and an average 5-year ROI of 510%.