Gartner®: 2022 Strategic Roadmap for SASE Convergence
"Security and risk management leaders should build a migration plan, from legacy perimeter and hardware-centric offerings to a SASE architecture."
Gartner® predicts that, "By 2025, 80% of enterprises will have adopted a strategy to unify web, cloud services and private application access using a SASE/SSE architecture, up from 20% in 2021."
The adoption of SASE is accelerating as organizations look to implement Zero Trust architectures, digital transformation projects, and reduce the complexity of their security stack.
In its 2022 Strategic Roadmap for SASE Convergence, Gartner® breaks down the factors that are driving this shift and gives its latest guidance for adoption, including:
"Avoid point solution projects. Instead, opt for consolidation by using the converged security service edge (SSE) market at renewal time for CASB, SWG or VPN to remove complexity."
"Implement zero trust network access (ZTNA) within a SASE/SSE strategy to deliver consistent, contextual application access for all users, regardless of location (including in the office or branch)."
"Consolidate SASE offerings to a single vendor, two explicitly partnered networking and security vendors with deep integration, or a managed SASE offering to reduce complexity."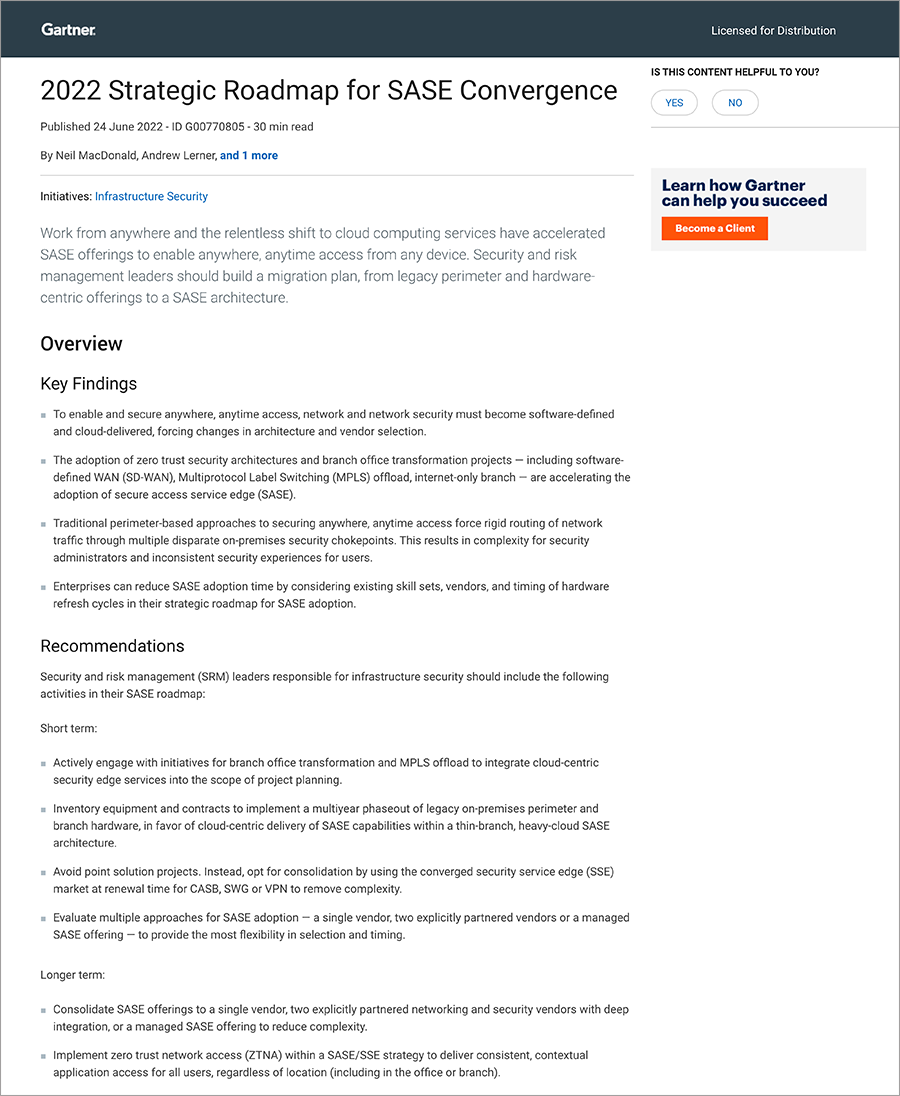 Gartner 2022 Strategic Roadmap for SASE Convergence, Neil MacDonald, Andrew Lerner, John Watts, 24 June 2022
GARTNER is a registered trademark and service mark of Gartner, Inc. and/or its affiliates in the U.S. and internationally, and is used herein with permission. All rights reserved.