Forcepoint NGFW (formerly Stonesoft Next Generation Firewall)
Connect and protect your users and their data throughout your data centers, edge, branches, and the Cloud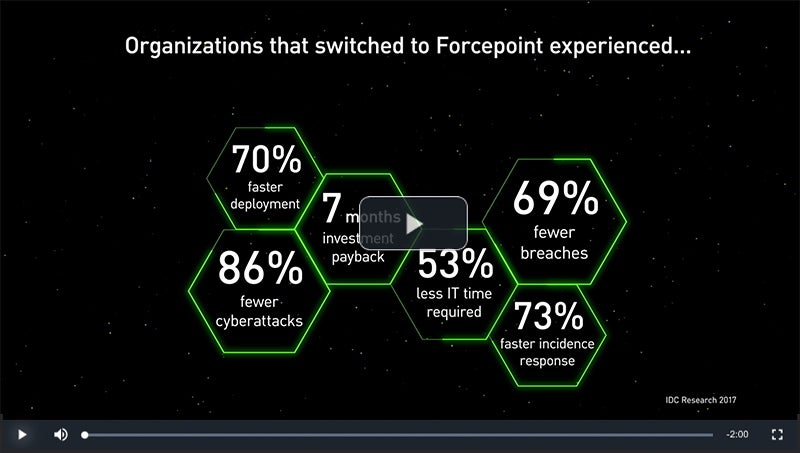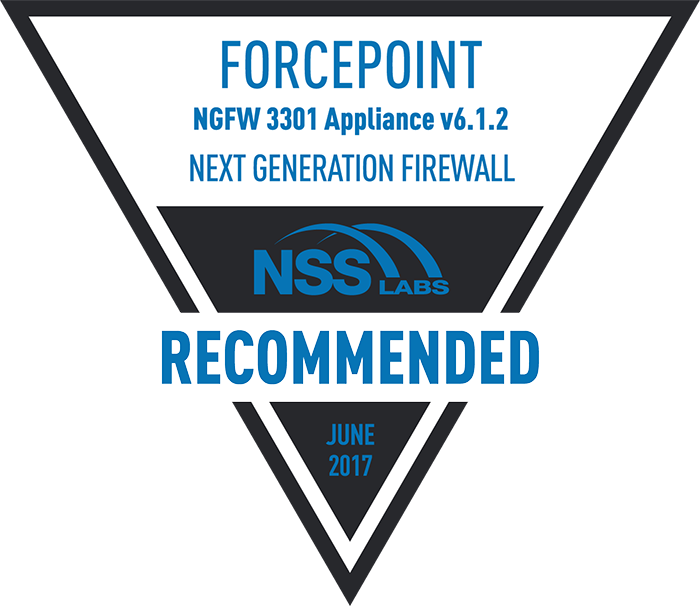 NSS Labs Recommended
2017 NGFW
Forcepoint has a vision for a new approach to enterprise security: understand cyber behaviors to stop the bad and free the good. Our next generation firewalls block attacks and prevent the theft of data and intellectual property while transforming your infrastructure and operations for the better.
Forcepoint NGFW connects and protects people and data throughout your offices, branches, and the Cloud – all with the greatest efficiency, availability and security.
You can deploy, monitor and update thousands of firewalls, IPSs and VPNs – all from a single console. Map business processes into strong, accurate controls to foil advanced attacks, disrupt data theft and properly handle encrypted traffic. Cut network operating expenses in half and eliminate downtime throughout your network to keep your business running smoothly.
"After an extensive market evaluation, we realized that Forcepoint NGFW would offer superior performance, evasion protection and cost benefits."
- Avency
Efficiency
Cut TCO burden
52% less IT staff time*
Unified features & admin – physical, virtual, cloud
One-click policy updates
Faster incident response
Availability
Eliminate network downtime
70% less maintenance, 38% fewer outages*
Always-on firewall clustering
Multi-ISP WAN clustering
Zero-downtime upgrades
Security
Slash theft, not performance
86% fewer attacks, 69% fewer breaches*
Built-in IPS & anti-evasion
Encrypted traffic inspection
Industry-leading sandboxing
*2017 IDC Research, The Business Value of Forcepoint Next Generation Firewall (NGFW) Solutions
Unified Core
Consistent capabilities and management
---
Forcepoint NGFW Appliances
All Forcepoint NGFWs are built on a common software core to provide unified operation and high performance across all forms of appliances – cloud, virtual, physical.
Cloud – available for Amazon Web Services (AWS), Microsoft Azure (coming soon)
Virtual – available for KVM and VMware ESXi
Physical – desktop, ruggedized and rack-mounted models; customizable network interfaces; firewall throughput from 1.5-120 Gbps
Forcepoint NGFWs undergo continuous, rigorous testing; see Certifications
NEW! Forcepoint NGFW 6.2
Learn more
IDC: The Business Value of Forcepoint Next Generation Firewall (NGFW) Solutions
In a recent study, IDC analyzed the business value and benefits of supporting network operations with Forcepoint NGFW solutions. The research included interviews with eight organizations relying upon Forcepoint's NGFW to connect and protect their networks and business operations. IDC created a model based upon their analysis to identify the costs and real benefits of deploying Forcepoint NGFW.