Access to multiple sensitive networks, simultaneously
Use the thin client solution to view multiple networks, at various classification levels, from a single monitor. Access mission-critical resources from anywhere in the world with no trace of data left on the device.
Achieve significant return on investment (ROI) through lower ownership costs in infrastructure, office space, power consumption, and administration
Easily scale to over 60 networks and over 100,000 users. Implemented anywhere critical data must be accessed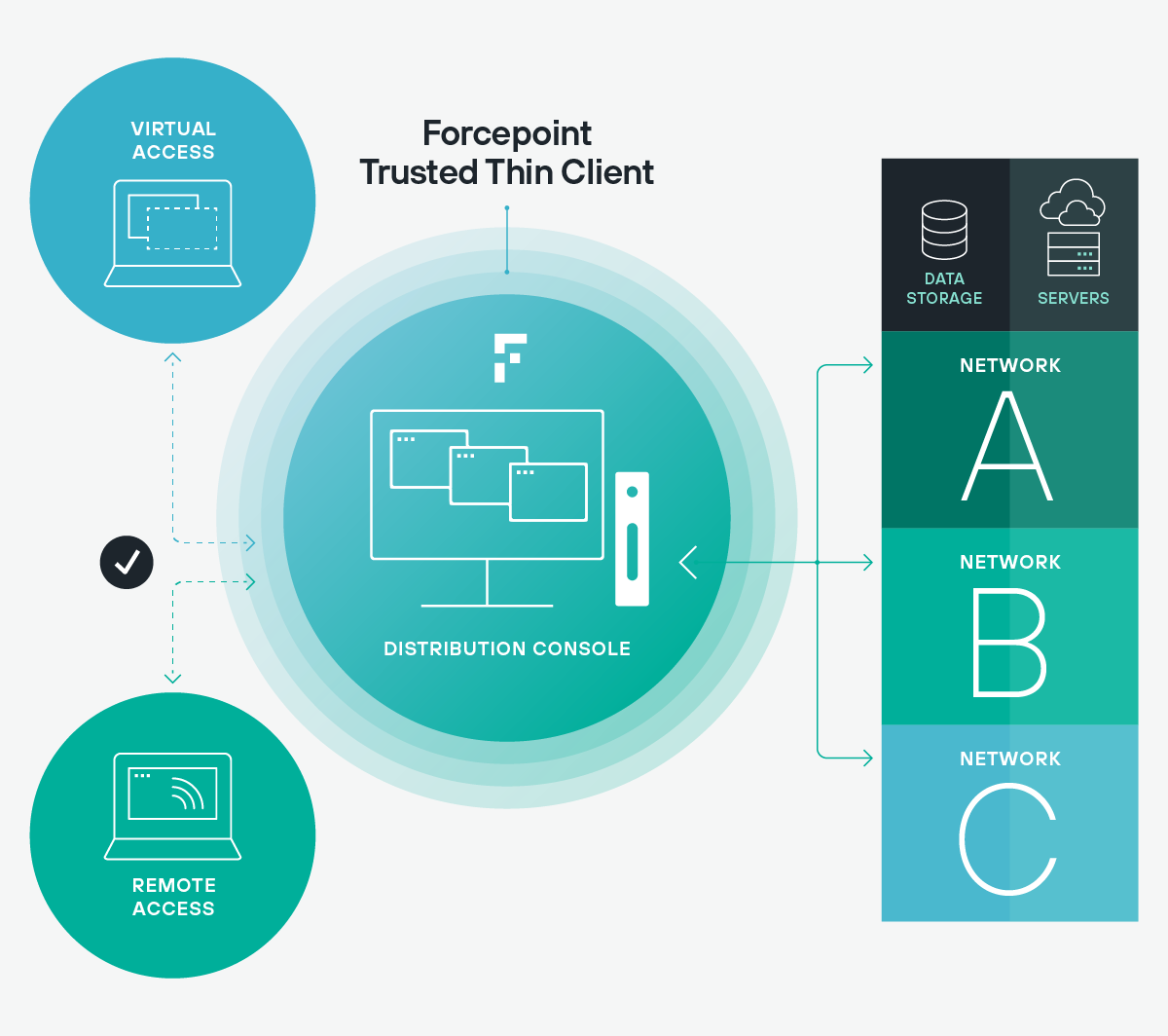 Why organizations are choosing Forcepoint
"With Forcepoint, end users can access various networks through a single, monitored client, or workstation. Not only is the system more efficient for users, but we can maintain out highest level of security"
System Engineer, Department of Defense
"A DoD IC customer reduced services centers for classified networks from 20 to 3"
System Engineer, Department of Defense
"An IC agency realized a 268% ROI using Trusted Thin Client"
System Engineer, Department of Defense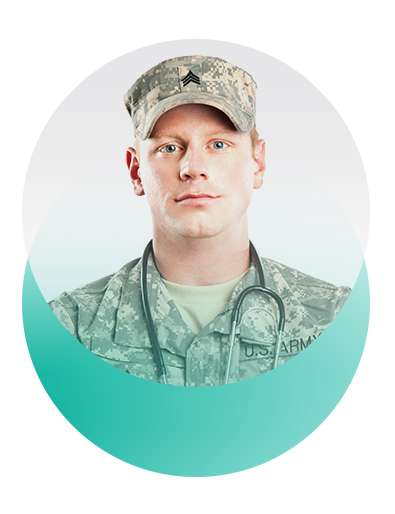 Trusted Thin Client features
Achieve the Mission
operation
Provide connectivity to hundreds of domains with common virtualization technologies at one or more sensitivity levels up to monitors even remotely.
Work
from anywhere
In the field or in four walls of government - keep information secure and compliant, no matter where you need to work.
Support
broad authentication
Use Common Access Card (CAC), SAC, and SIPRtokn, smartcards for identity management and access authorization to Microsoft Windows servers.
 
Exceed
rigorous security assessments
Meet guidelines - TTC is authorized and accessed according to NIST guidelines in compliance with National Cross Domain Services
Manage
multiple endpoint devices
Implement thin client software on a virtual machine residing on a host operating system or on other mediums (e.g. thin client hardware, PCs, hybrid devices).
Scale
operations rapidly everywhere
Implement in traditional office environments, large operations centers, in the field, in-theater, forward operating bases, in tactical vehicles, ship and aloft— anywhere critical data must be accessed and shared.
Explore Forcepoint Trusted Thin Client
TTC RESOURCES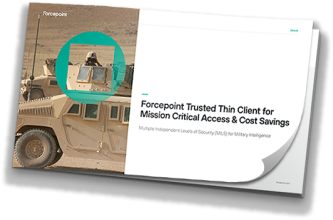 Forcepoint Trusted Thin Client for Mission Critical Access & Cost Savings
Learn how a military enterprise with geo-graphically disparate offices can access mission critical resources anywhere in the world.
Read the eBook