IDC MarketScape: Worldwide Email Security 2016 Vendor Assessment
Forcepoint Named as a Leader in Worldwide Email Security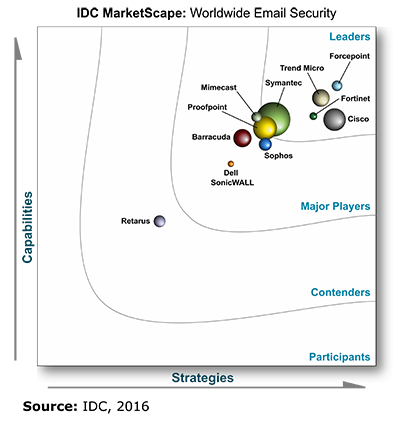 IDC MarketScape has identified Forcepoint as a Leader in its IDC MarketScape: Worldwide Email Security 2016 Vendor Assessment.1
The IDC MarketScape's assessment was clear and compelling: "Forcepoint is in the Leaders category due to their broad range of features and services options."
IDC identifies integrated Forcepoint products that deliver extremely effective email security to our customers: "Forcepoint uses their ThreatSeeker™ Cloud (now known as Forcepoint ThreatSeeker Intelligence), ACE threat detection and Spamhaus technologies to improve their messaging product so they can provide a guarantee 99% block rate."
Put the power and innovation of Forcepoint's industry-leading technology into your security posture.
Read an Excerpt of the Report Now!
1 IDC, IDC MarketScape: Worldwide Email Security 2016 Vendor Assessment, doc #US41943716, Dec 2016.
IDC MarketScape vendor analysis model is designed to provide an overview of the competitive fitness of ICT suppliers in a given market. The research methodology utilizes a rigorous scoring methodology based on both qualitative and quantitative criteria that results in a single graphical illustration of each vendor's position within a given market. The Capabilities score measures vendor product, go-to-market and business execution in the shortterm. The Strategy score measures alignment of vendor strategies with customer requirements in a 3-5-year timeframe. Vendor market share is represented by the size of the circles. Vendor year-over-year growth rate relative to the given market is indicated by a plus, neutral or minus next to the vendor name.