NSS Labs SD-WAN Report 2018
Forcepoint's SD-WAN Connectivity and Security Verified IN NSS Labs SD-WAN Group Test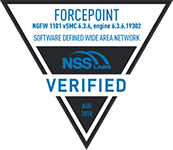 In this report, NSS Labs simulated an enterprise network that has branches connected to a data center through two links: an MPLS line and a commercial broadband connection. They reviewed a select number of vendors, testing their throughput performance, video quality and VOIP quality as well as security effectiveness.
NSS Labs has verified that Forcepoint NGFW handled all of their use cases and offers all the operational capabilities that they recommend as necessary for SD-WAN as well as scoring 100% across all security tests, blocking all evasion techniques.
"Forcepoint is one of the few vendors to support all of the use cases and capabilities we tested as well as strong security in their SD-WAN solution. They should be on the short list for any organization that's looking to connect and protect their distributed enterprise."
- Vikram Phatak, CEO, NSS Labs
Read the report and learn how Forcepoint delivers SD-WAN with enterprise scale and security.
Also available is the 2018 NSS Labs NGFW Test, where Forcepoint NGFW received the highest score in security efficacy.