Retailers Face Unique Network Security Challenges
Remote Firewall Management, Retail-Focused Malware and Limited Data Visibility Pose Specific Security Challenges for Retailers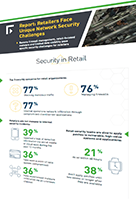 Osterman Research whitepaper identifies latest threats and trends affecting retail organizations.
Over the past 12 months, an astounding 87% of retailers have experienced one of the following: an accidental leak of sensitive data, a POS system compromise, malware infiltration from an unknown channel or an undisclosed security problem.
On behalf of Forcepoint, Osterman Research surveyed professionals at 100 large retailers to determine the top security threats and trends, including:
The top 3 security concerns for retail organizations
The percentage of retailers that have suffered an accidental data leak, malware filtration or a compromise of their POS systems
Difficulties in reacting to newfound vulnerabilities in high value systems
This resulting whitepaper reports on key findings from the survey and pain points security professionals face from threats that attempt to steal data, compromise retail systems and exfiltrate funds from corporate systems.