Cultivating Trust to Gain Competitive Advantage
A sponsored survey by Harvard Business Review Analytic Services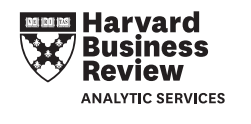 A survey of nearly 1,000 business and IT executives conducted by Harvard Business Review Analytic Services and sponsored by Forcepoint shows that "trust leaders" see a competitive financial advantage from focusing on trust initiatives.  
While other companies see trust eroding, trust leaders with mature trust policies and practices are gaining a competitive advantage and higher ROI yields by placing trust at the center of their corporate strategies.
Download the full report to find our if your company qualifies as a "trust leader." And if not, how you can become one.
Survey Highlights
63% of senior executives say trust among people, businesses and institutions has declined over the past two years.
88% of executives name large-scale cybersecurity exploits as a significant contributor to the decline in trust.
85% of executives from companies with mature trust policies and practices cite trust as a necessary precondition for collaboration and innovation.