Forcepoint 2016 Global Threat Report
2016's Data Threat Trends Your Organization Must Defend Against Immediately
Forcepoint's 2016 Global Threat Report is the conclusive analysis of the most disruptive cybersecurity threats your business faces today.
Our elite Special Investigations team has uncovered a never-before identified botnet and has documented several key trends in cyber threats. At the conclusion of each section of the report, we offer our expert advice on how to better-protect your organization.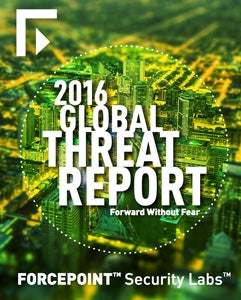 Learn more about:
How to avoid becoming an inadvertent insider threat.
How threats are evolving in capability while traditional security perimeters dissolve.
Forcepoint's first-hand case study on protecting a cybersecurity company during an acquisition.
Get your copy of the report today.