Forcepoint Achieves Highest Overall Security Effectiveness Out of 10 Vendors in 2017 NSS Labs' NGFW Test
In NSS Labs' most recent report on Next Generation Firewall (NGFW) overall security effectiveness, Forcepoint NGFW achieved the highest rating of all 11 products tested.
NSS Labs latest tests demonstrate that Forcepoint NGFW offers the leading combination of enterprise security and low cost.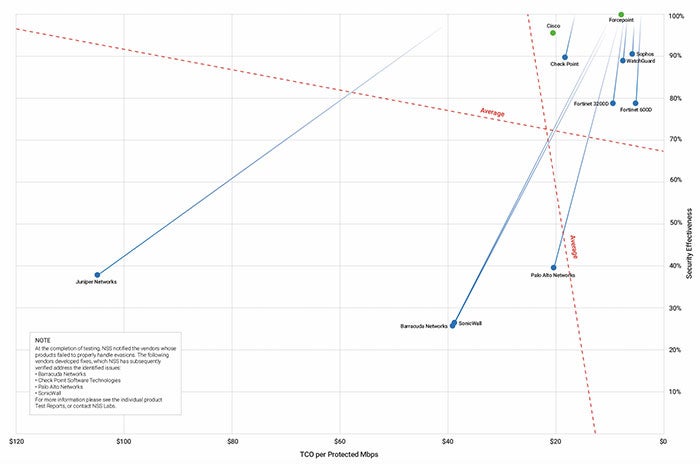 Forcepoint NGFW blocked 99.95 percent of exploits in NSS Labs' 2017 NGFW Test, and Forcepoint is the only vendor to block 100 percent of tested exploits run from the NSS Labs static exploit library. Over a continuous live testing period of 31 days, Forcepoint NGFW blocked 99.89 percent of "drive-by" exploits that target client applications. NSS Labs is the leading independent, third-party assessment that tests network security products under real-world conditions.
"The security effectiveness of the Forcepoint NGFW 3301 was unsurpassed in the NSS Labs 2017 NGFW test. The Forcepoint NGFW should be on every company's short list."
- Thomas Skybakmoen, Distinguished Research Director, NSS Labs
Additionally, as a result of these high enterprise security ratings and demonstrated operational efficiency, Forcepoint NGFW received its fifth consecutive "Recommended" rating since NSS Labs began testing next-generation firewalls.
Download the free report to view the full test results and analysis from NSS Labs.