Every year, Forcepoint cybersecurity experts from across the business come together to assess how the industry has changed in the last twelve months, and what is likely to happen in the next year.

In our Future Insights Webcast, Chief Technology Officer Nicolas Fischbach is joined by Chief Strategy Officer Myrna Soto to discuss these security predictions and explore how organizations can best prepare for what lies ahead.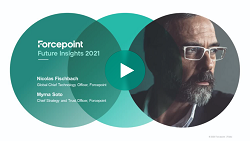 What are the emerging trends and how should we adapt to them? How do we prepare for the threats we can't yet see? Find out in this thought provoking discussion.

About the speakers

Nico Fischbach
As Global CTO, Nico Fischbach drives corporate level vision, defines the research agenda, and pilots technology and architecture road maps that underpin Forcepoint's human-centric cybersecurity solutions.
Myrna Soto
Chief Strategy and Trust Officer for Forcepoint. A strategic business and technology leader, Soto drives and champions the company's enterprise vision, strategy and programs to protect people, critical data and IP both within the company and for thousands of Forcepoint customers around the globe.