Strengthen your strategy with these new features
Data Loss Prevention (DLP) technology has been with us for many years and is now part of the common security defences employed by organizations. But today's Enterprise DLP is anything but standard, having evolved many new and advanced capabilities that put it at the heart of a data protection strategy.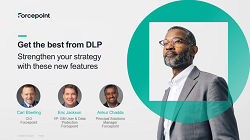 In this discussion we examine how these new functionalities can help us address the challenges of the new working landscape, accelerate your strategy and re-think what is possible.
Speakers
Carl Eberling, Chief Information Officer, Forcepoint
Eric Jackson, Vice President, General Manager User & Data Protection, Forcepoint
Host: Ankur Chadda, Principal Solutions Manager, Forcepoint