Step Up from Integrated DLP
How to know if you're ready for enterprise DLP
Data Loss Prevention (DLP) technology is now everywhere – you will often find it integrated in other security products like Web and Email Security, whilst many Cloud Aps will offer it as part of their service. But is it enough to rely on a myriad of providers to fulfill this critical security need?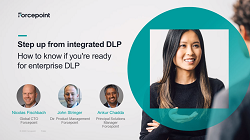 In this discussion, we evaluate the data protection options against the needs of the business, including:
The use cases for DLP; getting visibility of your data, securing critical data wherever it is and compliance
How DLP can go from a blocker to a business enabler
Why an Enterprise DLP solution is not necessarily a tool just for the big players
Is integrated DLP really integrated OR isolated DLP?
Speakers
Nicolas Fischbach, Global Chief Technology Officer, Forcepoint
John Stringer, Director of Product Management, Forcepoint
Host: Ankur Chadda, Principal Solutions Manager, Forcepoint