Understanding Office 365 Security Concerns
Understand the security trends that are influencing Office 365 adoption
Office 365 adoption is continuing at pace; Osterman Research anticipates that Office 365 will serve more than three-quarters of business email users in North America by early 2019*.
But rapid change puts pressure on departments to adapt, exposes weaknesses, and creates new security challenges as IT remodels its security posture to protect the new ecosystem.
Information security concerns are seen as the second greatest impediment to O365 adoption
74% of organizations plan to supplement or replace O365 security with third-party solutions by 2019
Most organizations are concerned about "shadow IT," with one in nine "extremely" concerned
Read the Osterman Research whitepaper "Understanding Office 365 Security Concerns" and learn how your peers are adopting Office 365, their greatest priorities and concerns, and how they are planning to tackle them.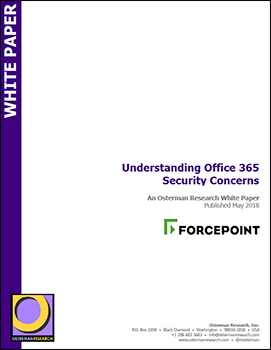 *Understanding Office 365 Security Concerns, Osterman Research, May 2018
Understanding Office 365 Security Concerns