Continuous Diagnostics & Mitigation (CDM)
Fortify Government Networks & Systems with CDM Tools from Forcepoint
Forcepoint's Human Point System delivers a tightly integrated set of capabilities that protects sensitive networks and data – wherever they are accessed and wherever they reside – through risk-adaptive protection and policy enforcement. All of which can be achieved with Forcepoint solutions included on the CDM Approved Product List (APL) for Phase Three.
EBOOK: DEFEND: Tackling the Next Steps of the CDM Program
Learn how a risk-adaptive approach to CDM can provide better context, visibility and enforcement. 
Learn more about Forcepoint's current CDM solutions and the capabilities those solutions provide for your Agency: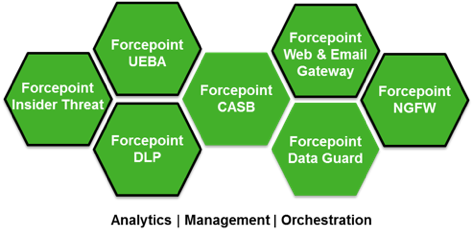 *highlighted offerings are available with CDM Phase Three
The Human Point System solutions are powerful when used on their own or with your existing tools; however, combining two or more solutions delivers the most robust security available.
One such example is achieving risk-adaptive data protection through the combination of Forcepoint DLP and Forcepoint UEBA. Forcepoint Risk-Adaptive Data Protection dynamically applies monitoring and enforcement controls to protect data based on the calculated behavioral risk level of users and the value of data they access. This allows Agencies to better understand risky behavior and automate policies, dramatically reducing the quantity of alerts requiring investigation.
Find out how Forcepoint can help you leverage CDM to achieve the most robust data security
Learn more about Forcepoint CDM and Risk-Adaptive Data protection.
Speak with a Federal Cybersecurity Specialist