Forcepoint NGFW – For the Fastest and Most Secure Globally Distributed Networks
Protect your enterprise's distributed datacenters, edges, branches, cloud networks and the people that use them with the world's best network security that delivers unrivaled efficiency, availability and global connectivity.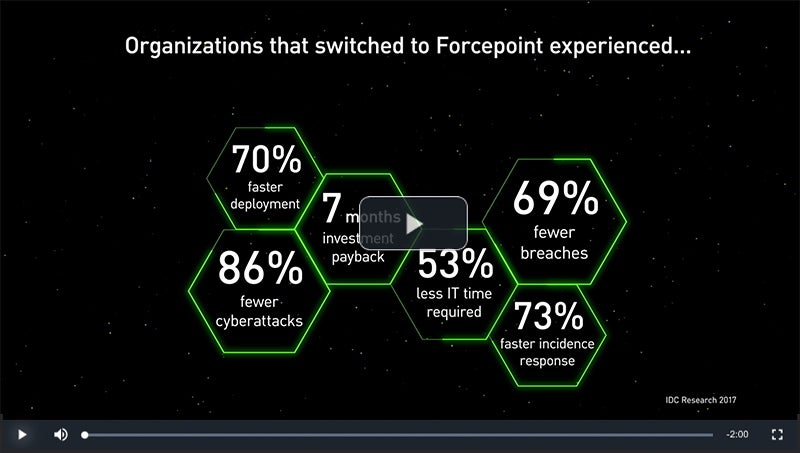 Forcepoint Network Security delivers these immediate benefits to highly distributed enterprise networks:
Cut your Total Cost of Ownership burden by 50%
Eliminate practically all network downtime – Really
Slash theft without sacrificing performance
NSS Labs gives Forcepoint NGFW their highest rating
Forcepoint's NGFW has received a "Recommended" rating for overall security effectiveness, performance, and total cost of ownership (TCO), according to the 2016 NSS Labs Next Generation Intrusion Prevention System (NGIPS) Comparative Report series. Forcepoint NGFW is recommended by NSS Labs for the 4th consecutive year.
Solve these critical problems with Forcepoint NGFW:
Take the burden and downtime out of connecting your branch offices
Remotely deploy Forcepoint NGFW to branch offices via our zero-touch deployment and Installation Cloud. Our zero-downtime approach to clustering multiple firewalls keeps your site up and running even when you're updating policies or upgrading the software in the devices themselves.
Our Multi-Link VPN lets you combine multiple broadband connections (even from different Internet Service Providers) into a single link for automatic resilience, all at a fraction of the cost of dedicated MPLS lines.
Whether you have dozens of stores or thousands, our Smart Policies cut the effort needed to set up consistent store networks by up to 80%. And, we make it easy to isolate your point-of-sale systems from your back office networks and customer WiFi to minimize your PCI concerns and maximize your productivity.
Manage your growing encrypted SSL/TLS traffic with consistent performance everywhere
Inspecting SSL/TLS traffic for incoming attacks or outgoing data loss requires high performance decryption and encryption that also comply with privacy laws. Forcepoint's Smart Policies gives you fine-grained control quickly and seamlessly everywhere across your network – in physical appliances, virtualized datacenters and even in the Cloud.
Reduce Breaches with Advanced Intrusion Detection and Prevention (IPS)
Deploy any Forcepoint NGFW – physical, virtual or software appliances – in your network behind your existing firewall and detect suspicious traffic and malicious code before they cause any harm. As the pioneer in detecting and blocking Advanced Evasion Techniques (we literally wrote the book on it), Forcepoint NGFW stops modern attacks that bypass most other network security products.
Protect Mission-Critical Applications (on SSH/SFTP, HTTP, TCP and UDP) from sophisticated attackers
Many of the most sensitive government and financial networks on the planet use a very special technology – application security proxies - to insulate their critical applications from network level attacks and data leaks from malformed packets. Forcepoint uniquely combines NGFW connectivity, high-availability, and centralized management with the robust protection of our Sidewinder Security Proxies. It all happens transparently – no special application settings to go wrong or cause confusion and no way to get around it.
Offer Network Security as a Managed Security Provider (MSP)
Set up sophisticated networks with centralized management and robust security policies in just minutes via the industry's leading connectivity and security solutions for highly distributed enterprises. Configure and administer your clients' firewalls, IPSs, VPNs and other network security resources according to your needs, from a single pane of glass.
Forcepoint's NGFW Security Management Center lets you offer network security-as-a-service to different departments within an enterprise or to different companies spread around the world, with the industry's leading connectivity and security solutions for highly distributed enterprises.
Keep Visibility and Security as You Scale Your Business Up to the Cloud
Manage and protect data in your virtual environments like Software-Defined Networking (SDN) as well data moving between them, whether going into private cloud environments like VMware NSX or public cloud systems such as Amazon Web Services (AWS). From Layer 2 firewalls to NGFWs and IPS to SSL/TLS encryption inspection, automatically provision software-defined firewalls (SDFW), enforce consistent policies with complete visibility, and interactively investigate and visualize threats whenever they arise from a single pane of glass.
Manage even thousands of devices on a global scale simply and easily with Forcepoint NGFW.
IDC: The Business Value of Forcepoint NGFW Solutions
In a recent study, IDC analyzed the business value and benefits of supporting network operations with Forcepoint NGFW solutions. The research included interviews with eight organizations relying upon Forcepoint's NGFW to connect and protect their networks and business operations. IDC created a model based upon their analysis to identify the costs and real benefits of deploying Forcepoint NGFW.
Pre-register to receive the full report
Network Security Products