Forcepoint Email Security Cloud
Protecting from spam, phishing & ransomware attacks wherever email is accessed
Detect spam, phishing and other APTs with comprehensive defenses to stop advanced threats like ransomware before they start. Forcepoint Email Security Cloud integrates powerful analytics and advanced malware sandboxing for inbound protection, content filtering for outbound data control and email encryption for secure communications.
Forcepoint Email Security Cloud's proactive URL Wrapping and Phishing Education secure email wherever users need access, even on mobile devices. Our unrivaled cloud infrastructure delivers phishing, malware and DLP protection for Microsoft Office 365™ and other popular email systems.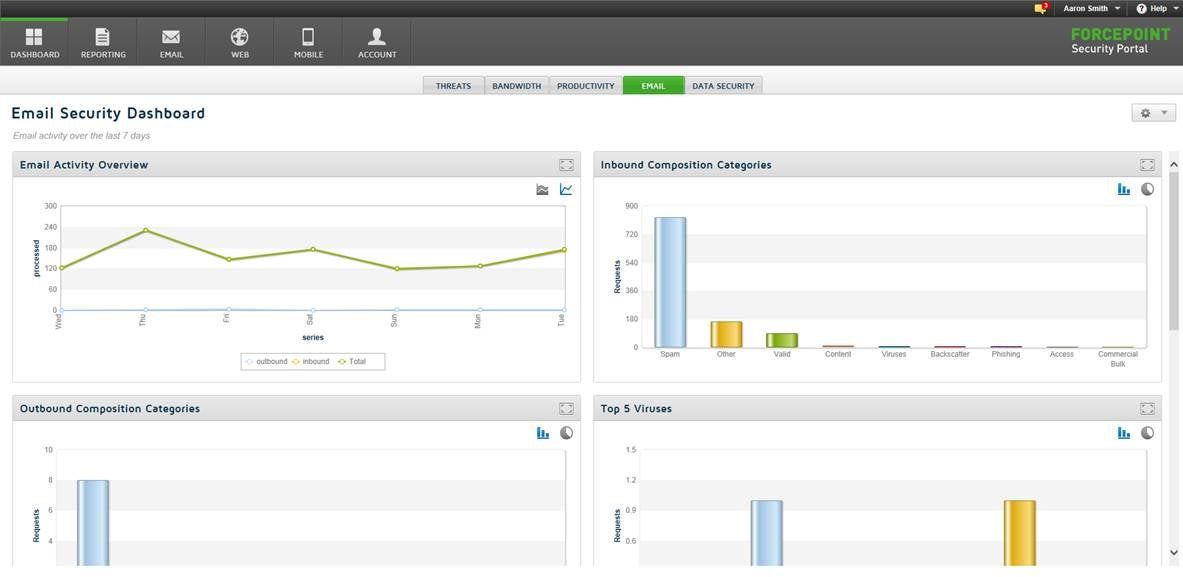 The Forcepoint Advantage
Unrivaled Threat Protection with Forcepoint Advanced Classification Engine (ACE), ThreatSeeker and Advanced Malware Detection (AMD)
Dynamic sandbox analysis and static threat analytics leveraging real-time global threat intelligence to identify advanced threats, phishing emails and other malicious activity across the threat lifecycle.
Enhanced user threat awareness
Leverage Forcepoint Email Security Cloud's unique Phishing Education features to help your users adopt best practices and identify those who need additional training to improve their security awareness.
Control your sensitive email risks
Encrypt sensitive email conversations and enhance mobile security by controlling sensitive attachments access by device.
Powerful mobile device defenses
Secure your mobile devices with URL Wrapping and restrict mobile access to sensitive attachments.
High availability cloud with scalability that's easily managed
Take advantage of rapid automated security updates in a fully-managed cloud environment for zero-touch management, optimal efficiency and low Total Cost of Ownership (TCO).
Forcepoint Email Security Cloud applies real-time behavioral sandboxing, enterprise-grade DLP and other advanced defense technologies to identify targeted attacks, high-risk users and insider threats. Forcepoint also offers strong protection for Microsoft Office 365 with regards to both inbound and outbound email security.
Schedule a live demo with a Forcepoint representative
Benefits
Detect advanced malware
Coordinated static and dynamic processes identify zero-day and other advanced malware and counter malicious evasive maneuvers.
Stop BECs & phishing
Identify Phishing, Business Email Compromise (BEC), and other targeted attacks to avoid interruptions from ransomware and other email-born threats. 
Agent-less mobile-aware defenses
Control sensitive attachments and suspicious links while empowering users to stay connected on any device, anywhere. 
Secure data & communications
Prevent information leaks and loss from external and insider threats with advanced email encryption and powerful content filtering controls.