AI in Business: Make Way for Interactive AI
Post 7 - Is Interactive AI the next big thing?
One AI article that grabbed my attention over the weekend was MIT Technology Review's interview of DeepMind Co-founder Mustafa Suleyman. This interview is worth reading for several reasons, but what stood out to me is how Mustafa thinks in terms of phases when it comes to AI—specifically that he expects interactive AI to be the next phase.
According to him, classification was the first phase. It's where researchers focused on classifying text, images, video audio and language. Large Language Models (LLMs) were born as part of this phase and the really paved the way for the next phase: generative AI.
Of course, we're already too familiar with the second phase—generative AI—since we're living through it at the moment. ChatGPT ushered in this second phase with a bang in the form of seemingly non-stop media attention and an ever-growing list of AI tools. But what comes after generative AI?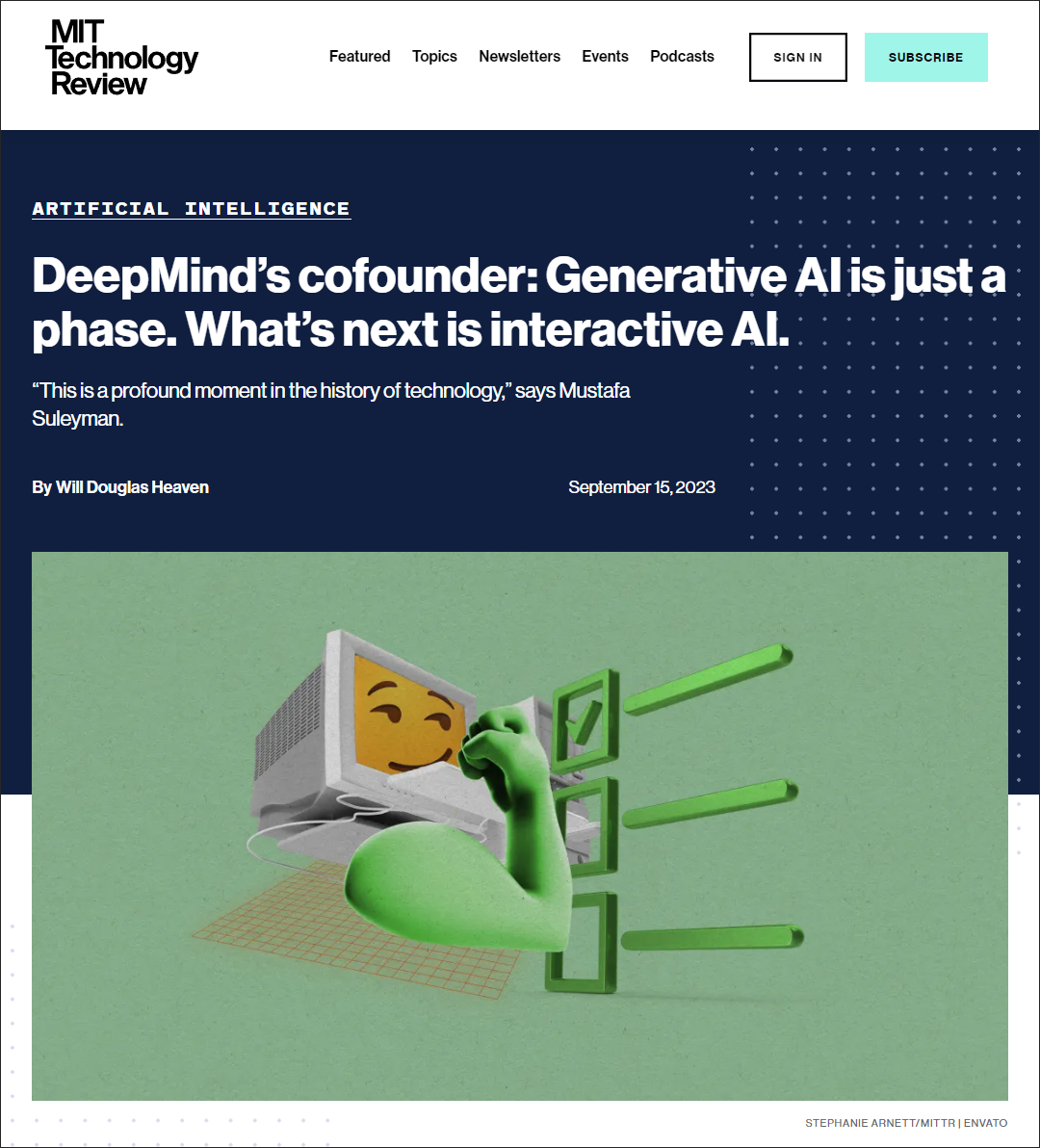 What is Interactive AI?
That's where interactive AI comes in according to Mustafa. In his view, interactive AI shifts from a command prompt to ongoing conversations—not just between one person and a tool like we're currently still warming up to. With interactive AI, a tool can act based on conversations with multiple people, software or even other AI tools. In other words, interactive AI is not limited to analyzing data to make predictions based on a preset model. It's more adaptable and responsive than the AI we know today.
What will Interactive AI be used for?
The most natural use of interactive AI will be to usher in the next phase of chatbots and digital assistants. But it can also be used for things like geolocation and navigation, speech-to-text applications, and much more.
When is Interactive AI going to be usable?
Some early versions of interactive AI are already out there. One example is Mustafa Suleyman's own Pi AI chatbot—it's precursor to what he sees down the road. Other nascent tools like Character.ai are available in beta form as well. Still, both represent early iterations of the technology. Though the field interactive AI is maturing rapidly, we're still most likely years away from using true interactive AI.
How will companies use Interactive AI?
Companies will be able to use interactive AI in many of the same places where it's already starting to leverage AI—customer service, marketing and sales, healthcare and education to name a few. By comparison, interactive AI's conversational nature will help it go further than predictions based on data analysis done by a preset model.
 Interactive AI will help customer service departments handle inquiries in real-time in more robust ways like guiding customers through troubleshooting steps for example. Interactive AI can help with sales and lead gen by providing engaged, personalized conversations with customers based on where they are in the process.
About Forcepoint
Forcepoint is the leading user and data protection cybersecurity company, entrusted to safeguard organizations while driving digital transformation and growth. Our solutions adapt in real-time to how people interact with data, providing secure access while enabling employees to create value.