AI in Business: The Economic Potential
Post 4 - The McKinsey AI report is a good place to start
When it comes to business use cases in AI, one study I keep coming back to is McKinsey and Company's 'The economic potential of generative AI' report. It's  a report I referenced in last week's post about AI and hype, and it's one that's well worth reading. In this robust report, 8 authors analyzed 63 use cases where AI technology can impact specific business challenges directly in "ways that produce one or more measurable outcomes.'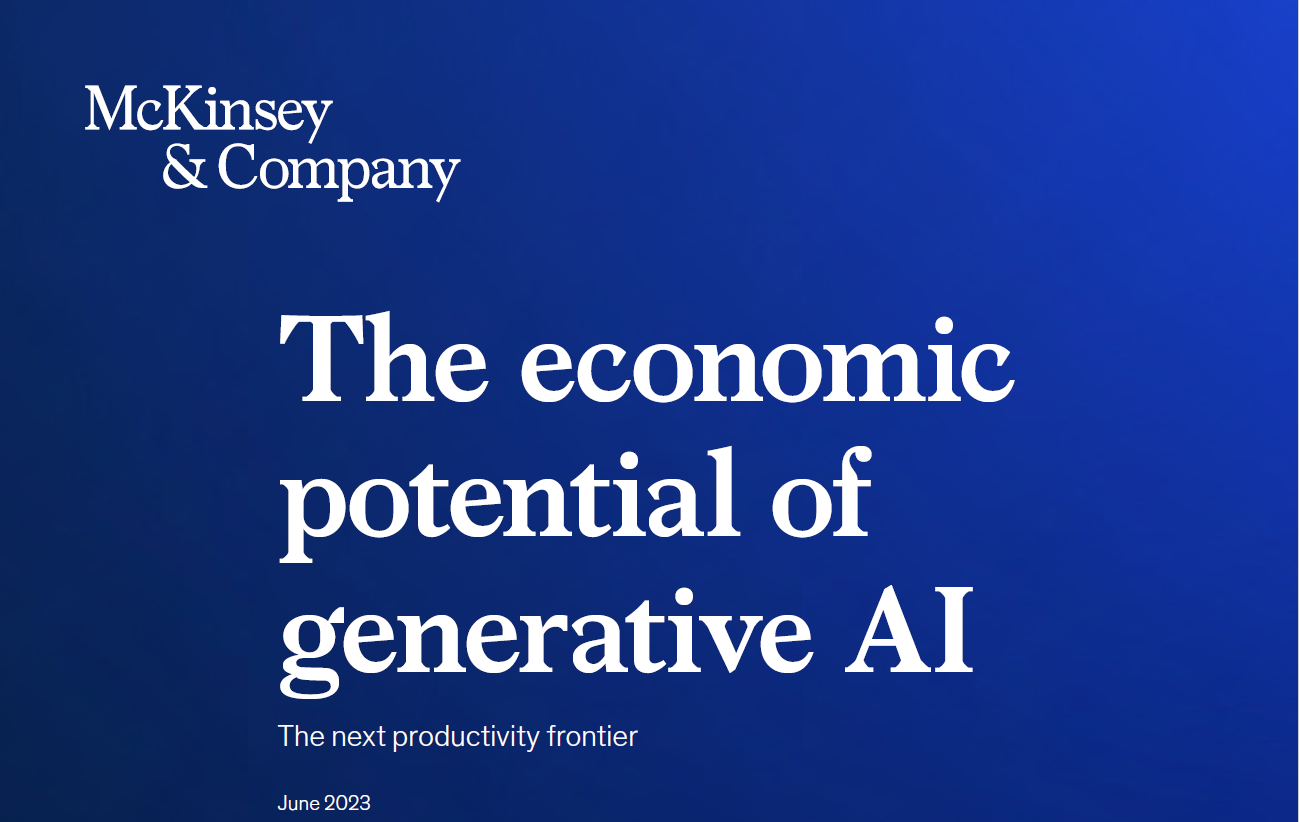 Overall, McKinsey expects AI to add $2.6 - $4.4 trillion annually across those 63 use cases. According to McKinsey, 75% of that total will come from 4 different areas: Customer operations, marketing and sales, software engineering and R&D. In my opinion, it's worth reading the report to see McKinsey's deeper dive into how AI will potentially impact those top four areas.
And it's also worth digging into the Spotlights section of the report to better  understand use cases in  industries outside those top four into areas like retail, banking and pharmaceutical/ medical products. For example, McKinsey estimates that AI could result in an additional $400 billion to $660 billion, just by increasing productivity 1.2 – 2 percent. And that's just scratching the surface of the industry use cases they analyzed.
If you work in one of the areas that McKinsey expects widespread adoption of AI, or you have been tasked with scoping out ways AI can be leveraged to improve your business, the McKinsey economic potential of AI report is a good place to start digging in.
###
Note: This is the fourth post from me in our AI In Business series. You can check out all other posts in the series via the #ForcepointAI tag. Here's a list of my other posts in the series:  
About Forcepoint
Forcepoint is the leading user and data protection cybersecurity company, entrusted to safeguard organizations while driving digital transformation and growth. Our solutions adapt in real-time to how people interact with data, providing secure access while enabling employees to create value.