Artificial Intelligence in Business: What if AI is Overhyped?
Post 3 - Can AI possibly justify the sky-high valuations?
It's a fair question to ask, especially by a prolific author and thinker like Gary, who's clearly established himself a leading voice in AI. First he asks that question in the context of  overly hyped market valuations. Companies like NVIDIA and Microsoft have already added billions to their respective valuations on the promise of AI in business. Countless smaller players and hot AI startups continue to see investment dollars pouring in on the way to astronomical valuations.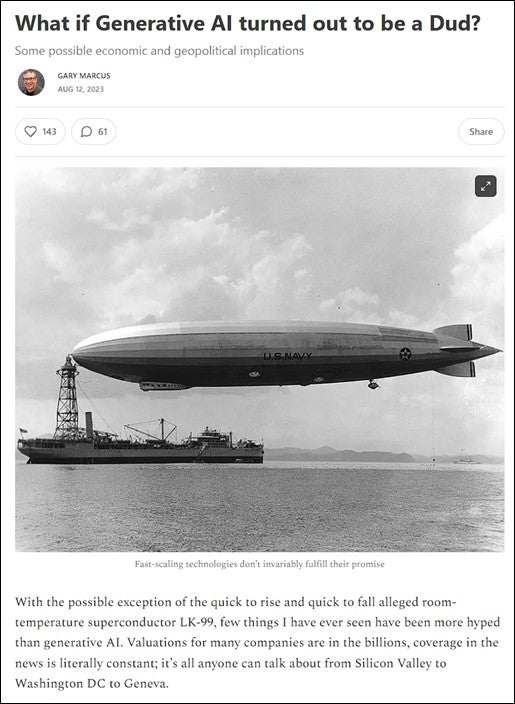 But, to me, the more interesting angle comes when looking at the business impact of AI. In his article, Gary mentions that coders are one that will clearly benefit from AI, and marketers, like I blogged about last week are another group. Both groups will leverage AI tools to get work done, and surely generate direct revenue from that use. Beyond those, I think you can easily add customer success and sales to that group. If you're interested in potential revenue opportunities, McKinsey recently did a good quantitative analysis that's worth reviewing.
But Gary's right to question the long-term economic potential of AI, especially given where we are in the over-the-top hype cycle. I believe Bill Gates said in the past that we tend to overestimate the impact of a new technology in the early days. When it comes to AI in business, that idea seems applicable in its current state. Even if AI proves to be a massive commercial success for businesses, living up to the current sky-high valuations may be too much to ask. I also agree with Marcus that Artificial General Intelligence is probably a lot further out than those with a vested interest in AI would have you believe.
But here's the thing: when it comes to AI in business, you can't put the genie back in the bottle.  No question that businesses across multiple industries are devoting real resources to figure out where they can use AI to help drive new (and additive) revenue streams. They're also keen to find ways that AI can serve as an advantage over competitors. Even though things are moving fast, the true economic impact of AI will take years to play out.
###
Note: This is the third post from me in our AI In Business series. You can check out all other posts in the series via the #ForcepointAI tag. Here's a list of my other posts in the series:  
About Forcepoint
Forcepoint is the leading user and data protection cybersecurity company, entrusted to safeguard organizations while driving digital transformation and growth. Our solutions adapt in real-time to how people interact with data, providing secure access while enabling employees to create value.