User & Entity Behavior Analytics for a Zero-Perimeter World
Forcepoint UEBA information security protects sensitive client information, detects compromised accounts and enforces the continued improvement of an organization's internal security culture.
Human Risk Platform
Traditional tools fail to provide contextual information about insider risk ― critical in the era of continuous security breaches and mounting governmental demands for regulatory surveillance. Forcepoint UEBA is the leading platform integrating structured and unstructured data to provide holistic visibility into nuanced human activity, patterns and long-term trends that comprise human risk.
Solve Hard Problems in Information Security & Regulatory Compliance
Security analytics delivers visibility into enterprise risk in an era when the threats have surpassed the perimeter. Streamlined technology makes it easier to review large data sets and work with teams of supervisors across the organization.
The Forcepoint Advantage
Integrate data sources to gain visibility into human risk across the organization
Quickly identify and prioritize high risk insiders everywhere
Easily detect malicious and compromised user accounts in your workplace
Security teams have no visibility into the human layer. Unstructured data is growing at the rate of 62% per year. Today's security solutions do not fully capture human interactions.
Leverage all structured and unstructured data sources in our human risk platform.

Human Risk Maturity Model
Integrating structured and unstructured data sources within a single application
elevates your insider threat program and helps you reduce risk.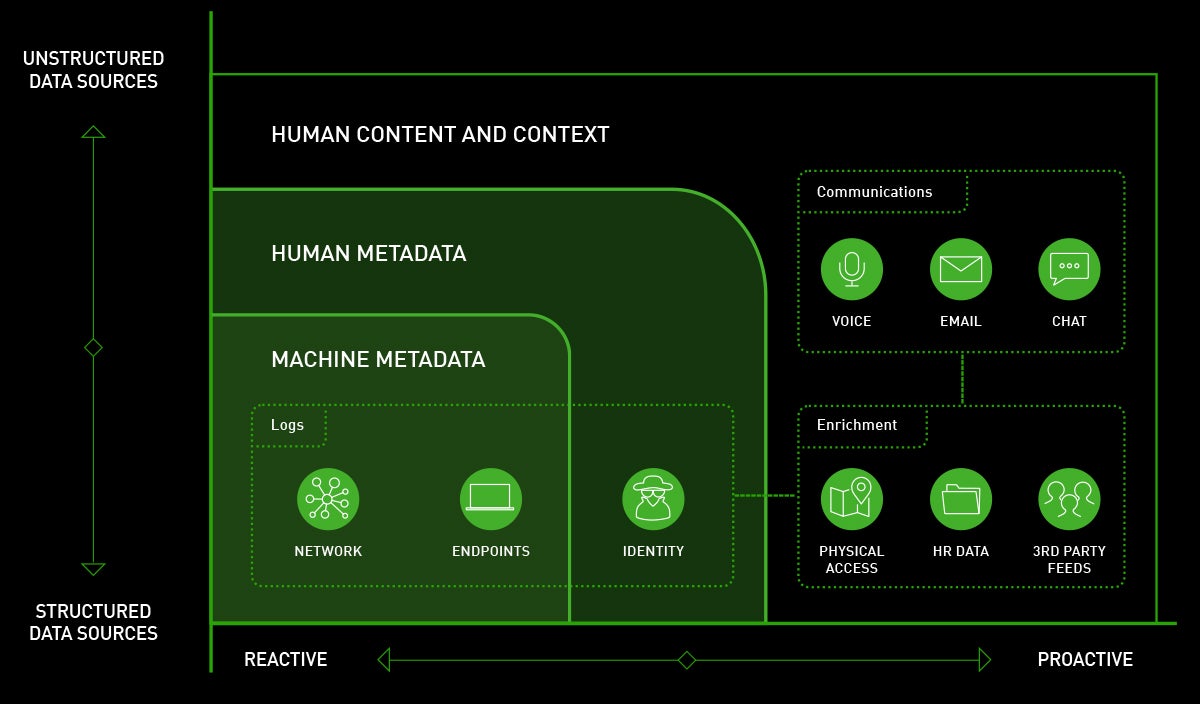 Solve the problems that really matter
Layered Analytics Form the Core of our Analytic Platform
Data Model
Flexible and extensible capabilities for diverse data sources to support any risk use case.
Behavioral Analytics
Advanced data science captures changes in behavior across time, not just anomaly detection and role-based alerts.
Content Analytics
Natural Language Processing, including sentiment analysis and information extraction, to understand what matters.
Visualizations
See existing data sources to more easily detect anomalies and monitor organizational health.
A broad set of data ingest sources to address the needs of the UEBA security market— including structured and unstructured data sources
Data may be sourced from anywhere within the organization. Below are just a few examples of those systems: