PROTECTING THE




HUMAN

POINT.

Threats evolve and technologies come and go, but people are the constant. Forcepoint protects at the point where technology is most enabling and security is most vulnerable

Learn More
Our Focus
Forcepoint's people-centric vision drives us to create intelligent systems that stop bad cyber behaviors and help organizations protect employees, critical data and IP wherever it resides.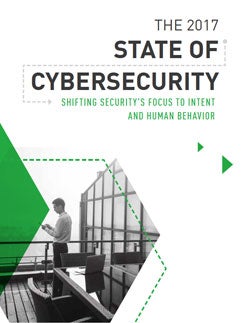 The 2017 State of Cybersecurity
Shifting Security's Focus to Intent and Human Behavior
In the 2017 State of Cybersecurity report, thought leaders at Forcepoint assert that the security industry is in need of a paradigm shift toward examining user behavior and intent.
Read the Report
View All Resources
YOUR SECURITY ISSUES.


OUR EXPERTISE.

For more than 30 years, our experts have helped a wide range of companies, governments and agencies create custom services to address their most pressing issues.

Learn how we can help your organization achieve its security and intelligence goals

DISCOVER OUR SERVICES
Forcepoint Leaders Highlight the Cyber Continuum of Intent at Gartner Security & Risk Management Summit
AUSTIN, Texas – June 19, 2017 – Last week at the Gartner Security & Risk Management Summit, Chief Information Officer Meerah Rajavel and Chief Scientist Dr. Richard Ford from global cybersecurity leader Forcepoint shared methods for combating insider threats by focusing on understanding human intent.
The Benefits of Upgrading to Forcepoint NGFW
Furthering Forcepoint's mission to create an unrivaled NGFW platform is the integration of the proxy technology that Sidewinder customers have trusted for years. By integrating these proxies natively into Forcepoint NGFW, existing Sidewinder customers can now extend this control at a scale not previously possible.
Microsoft Security Advisory 4025685 [1] was released on Tuesday 13 June 2017 and quickly gathered a large amount of attention for fixing a significant number of SMB exploits in supported versions of Windows and for Microsoft's decision, once again, to provide patches for now-unsupported versions...
Blog