Simplifying branch connectivity and security with FlexEdge Secure SD-WAN
With applications moving to the cloud faster than ever, old approaches to linking branch offices and remote sites via headquarters or a data center are just too slow and wasteful. As the past two years have shown, the internet can indeed be used as a business backbone, connecting people efficiently to the resources they need.
As a result, many organizations are embracing connectivity technologies like SD-WAN and security platforms such as SSE (Security Service Edge) to modernize their infrastructure and support their newly returning hybrid workforce. While SD-WAN originally was seen as a way to replace old private circuits such as MPLS, it has evolved into a way for distributed businesses and government agencies to maintain visibility and control.
This is crucial to keeping increasing volumes of sensitive data flowing in and out of site without getting compromised by attackers or bogged down by cat videos and other less essential traffic. But, it's also often easier said than done.
That's why we're launching our new Forcepoint FlexEdge Secure SD-WAN series of products. It integrates application-centric SD-WAN with our proven network security and intrusion prevention technologies to simplify connectivity and network security for branch offices and remote sites of all sizes, even at global scale. Its converged architecture enables businesses and government agencies to accelerate performance for accessing cloud applications, protect machine-to-machine communication between branches and internal systems, and future-proof their operations by transitioning to a SASE architecture
With FlexEdge, hundreds or even thousands of sites can be managed from a single set of policies in a centralized console. It enables distributed enterprises and governments to use private MPLS, local internet broadband and mobile links together and automatically use the right links for the right applications.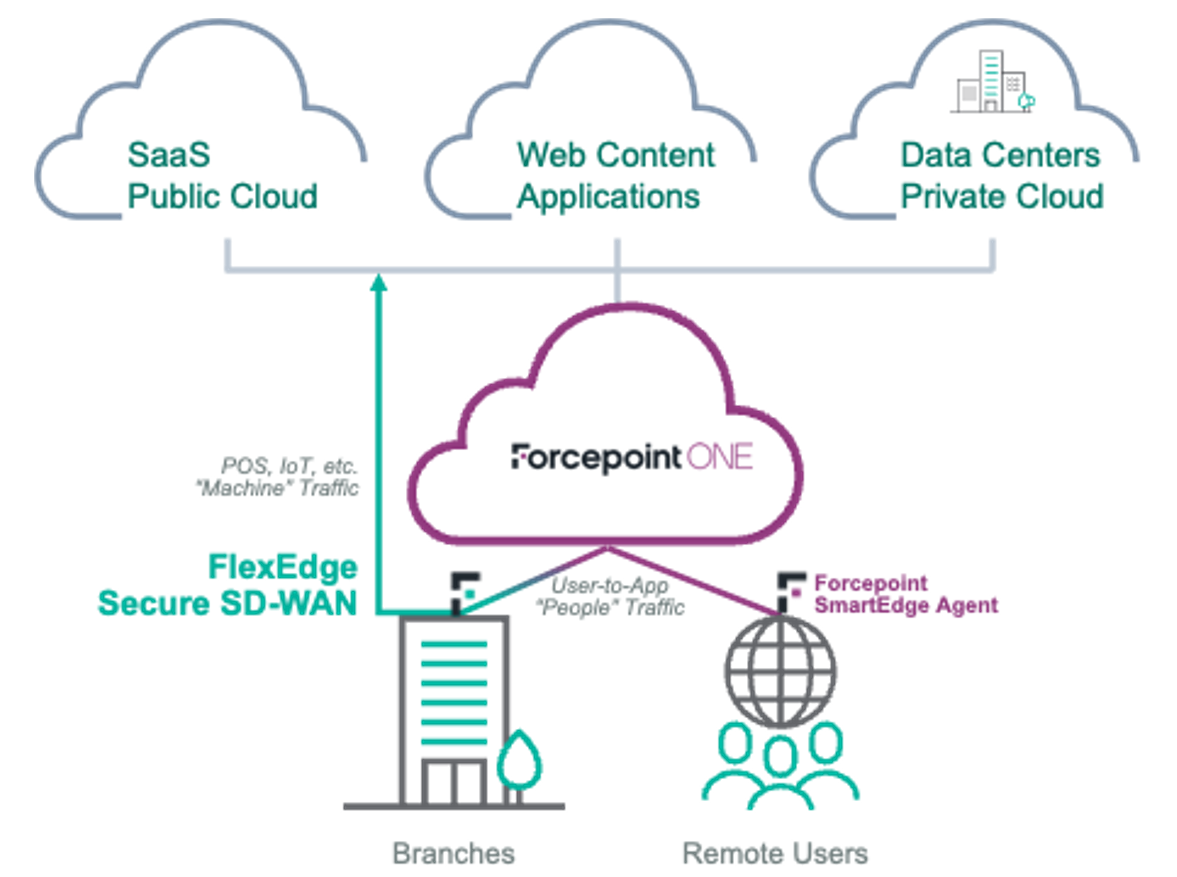 It also builds in cutting-edge intrusion protection that is depended upon by businesses and government agencies around the world to keep advanced threats out and protect automated line-of-business communications such as traffic from point-of-sale terminals or IoT devices back to internal systems. In addition, we're tightly integrating FlexEdge with our Security Service Edge (SSE) cloud platform, Forcepoint ONE, to protect people working at remote sites as they use web, cloud, and private applications.
Think of it this way: The combination of FlexEdge Secure SD-WAN and Forcepoint ONE will make deploying SASE and Zero Trust much easier. More about that later.
FlexEdge Secure SD-WAN is available immediately in the Americas through Forcepoint's international network of resellers. If you're at RSA Conference 2022, stop by our booth, N-5965, to see the many things it can do. You can learn more or request a demo on our FlexEdge Secure SD-WANF web page.
About Forcepoint
Forcepoint is the leading user and data protection cybersecurity company, entrusted to safeguard organizations while driving digital transformation and growth. Our solutions adapt in real-time to how people interact with data, providing secure access while enabling employees to create value.